RadionicsBox Unveils New Software For Advanced Radionic Operations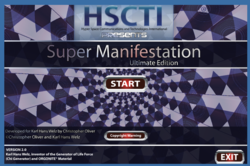 Dallas, TX (PRWEB) May 07, 2012
RadionicsBox is officially announcing the release of the Super Manifestation Ultimate 2.0 2012 radionics software program. Super Manifestation Ultimate 2.0 builds on the heritage of the Manifestation series of programs and introduces several new features designed to improve the user experience.
Super Manifestation Ultimate 2.0 was rewritten for full compatibility with the Windows 7 operating system using the latest software development tools. It features 28 moveable positions, each with settings for image, description text, and numeric rate. Another noteworthy improvement is the psychotronics virtual stick pad, which allows users to generate a radionic rate by moving the cursor over a graphical rubbing plate to achieve a more accurate rate frequency.
Users can connect their orgone generator via a structural link consisting of a printed card that is placed on the generator and a digital counterpart that is loaded into the program. The energy generated by the orgonite in the generator is then linked to the operation in the software.
In addition a new operation sequencer called Barrage has been implemented to allow operations to run in a repeating sequence. Product specialist, Mike Devino states, Barrage allows users to specify up to 12 radionics operations each with a run time from 1 minute to 10 hours to run in a repeating sequence with no further user interaction. It is a very powerful feature that allows for multiple operations to run using the same computer and generator..
RadionicsBox has also posted a video users manual covering software installation, function and command walkthroughs and importing of optional package files. Mike Devino says, The video lessons and manual will have you running your operations with confidence in a matter of minutes.
The Super Manifestation Ultimate 2.0 radionics program has many advantages over using a traditional radionic box, says Davino, the software allows users to create operation files and save them for later use which is just not something you can do with a stand alone device. Also there is the ability to define positions by number and purpose. Virtually any operation you can imagine can be created. This is the most versatile and powerful radionics program ever created and we are excited to have it available to our customers.
RadionicsBox is offering upgrades to users of previous versions of the software and they suggest you contact them for upgrade details.
RadionicsBox is the software developer and premier dealer for HSCTI in North America supplying Welz chi generators, orgonite radionics devices, radionics programs, lessons and expert advice since 2005. For more information visit radionicsbox.com.
Find More Graphic Press Releases