Obama Strikes Heroic Pose In Bin Laden Death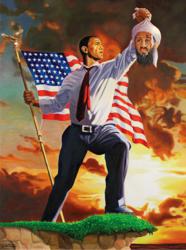 NY (PRWEB) May 01, 2012
On the one year anniversary of the event, artist Michael D'Antuono, is releasing his painting "And Justice For All" to commemorate the first anniversary of what might be Obama's greatest surviving accomplishment.
President Obama is heroically portrayed high atop a mountain in a victorious stance, majestically holding the American flag in one hand and the head of Osama bin Laden in the other.
The artist attempted to auction the piece almost a year ago to benefit wounded soldiers, but the painting was deemed too graphic by the newswire service to post, and too controversial by the charity. "One (election) year later, President Obama's role in the killing of Osama bin Laden is sure to be heralded by Democrats and greatly played down by Republicans. A lot has happened in the past year," says D'Antuono, "Hopefully, time has given us a better perspective on the impact of the assassination, but that may not be easy with the Presidential campaign about to reach its full swing."
D'Antuono is best known for his infamous painting "The Truth" depicting President Obama wearing a crown of thorns that sparked outrage amongst some groups in the Religious Right in 2009.
To view more of D'Antuono's art visit: ArtandResponse.com
Press Contact

Michael D'Antuono
info(at)ArtandResponse(dot)com