New iPhone App Aims to Help Mary Kay, Thirty-One Gifts Consultants Do More Business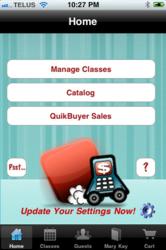 Houston, TX (PRWEB) June 02, 2012
Davlin Enterprises, LLC is aiming to help Mary Kay and Thirty-One Gifts consultants better run their businesses in the 21st century. The QuikCheckout app is now available in the app store. Designed for the iPhone, the app also works with iPod touch and has a high resolution on the iPad as well. The current version has been developed specifically to assist Mary Kay cosmetics consultants but is equally effective for sellers of Thirty-One Gifts. With QuikCheckout, consultants have their entire product catalog at their fingertips and can accurately calculate new orders with sales tax and discount codes, email customer receipts and manage their business contacts.
Mary Kay representatives have essentially been operating mobile businesses for decades, says David Jackson, President of Davlin Enterprises. This has always been a progressive industry, and we want to give them the most progressive tool with which to operate. Our main priority is to simplify and expedite the direct-selling process, creating an improved purchasing experience for customers and increased revenues for our users.
Apparently the developers are on to something. Says one satisfied user, I am so impressed and happy with this app! It has helped me so many times already on my iPhone. Now that I have an iPad, it is even more awesome . . . It is faster than ever and makes my parties run so smoothly.
In addition to helping consultants at sales parties, QuikCheckout also offers users the flexibility to sell whenever and wherever they please no longer limited only to gatherings in peoples homes. Its opened up a whole new door for me, says Stacy, a Mary Kay consultant. Ive been able to close sales with people I have just met in passing, at the grocery store, in the park and at other places because everything I need is right there on my phone. No more chasing for follow-ups hoping it turns into something later.
QuikCheckout removes the hassle of taking orders with pen and paper and enhances the selling process through speed, automation and accuracy. Jackson says that by removing the need for consultants to make sometimes complicated, manual calculations (often for numerous clients at one time) they are able to focus nearly all of their energy on what they do best – selling. This pleases customers and ultimately helps consultants increase their revenues with better quality sales.
Unlike a laptop computer, the mobile app has no need for Wi-fi – something often not available in peoples homes and other venues – and can run entirely on 3G. The developers plan to enhance the app even further in order to assist other direct sales consultants, and for that Jackson says the company is aggressively seeking additional consultants and corporate contacts. An Android version of QuikCheckout is also planned for the future. QuikCheckout can be downloaded from the App Store. To learn more visit quikcheckout.com or follow the developments on Facebook and Twitter.
Related Computer Press Releases