MidAtlantic Farm Credit Announces Grand Prize Winner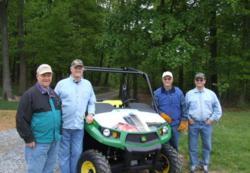 Westminster, MD (PRWEB) May 02, 2012
MidAtlantic Farm Credit announced the winner of their annual meeting grand prize, a John Deere Gator. The winner was Leo Duncan of Frederick, MD.
Mr. Duncan is a retired athletic director and math teacher who moved back to his family farm in Frederick county about 13 years ago where he now assists his brothers with their beef and hay operations.
When the prize was delivered to his farm, Mr. Duncan said, I just cant believe I won. There are all kinds of odd jobs we can use it for around the farm. I know my brothers and I will get a lot of use out of it.
Mr. Duncan was one of 1,400 attendees at MidAtlanic's stockholder meetings, held earlier this month throughout Pennsylvania, Delaware, Maryland, and Virginia. All meeting attendees were eligible for the prize, which was awarded in a random drawing.
The grand prize, a John Deere Gator XUV 550 Crossover Utility Vehicle is equipped with a powerful V-twin engine and independent four-wheel suspension. The custom artwork was designed by local graphic designer Barbra Colquitt of Colquitt Design in honor of the 95th anniversary of the Farm Credit System.
About MidAtlantic

MidAtlantic Farm Credit is one of the largest agricultural lenders on the east coast providing farm loans, home loans and crop insurance in Delaware, Maryland, Pennsylvania, Virginia and West Virginia. They are part of the national Farm Credit System, a cooperative lender with more than 500,000 borrowers and a portfolio of over $ 160 billion.
Find More Graphic Press Releases