Making Fun Launches Zombro Puzzle Action Game for iOS and Android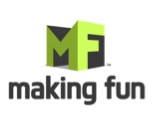 San Francisco, CA (PRWEB) May 07, 2012
Today, Making Fun, Inc., a division of News Corporation Digital Media Group, launches Zombro, an awesomely creative single player puzzle action game available for free on iTunes, the App Store for iPads and iPhones, and on Google Play for Android tablets and smartphones. Zombro is an addictive, mobile freemium game in which players embark on an exciting adventure across the United States with an adorable and friendly zombie. Players detach Zombros legs, torso, and brains and control them separately to jump, dodge and roll through each levelall while avoiding deadly traps and solving puzzles to finish each level with Zombro back in one piece. This puzzle action game is quick to learn and play, and delivers the type of challenges that keep advanced players coming back for more.
Developed by Sarbakan, Zombro defies typical zombie games that are chock-full of people fleeing blood-thirsty zombies. Zombro includes 50 different puzzles and the ability to outfit the friendly Zombro with cool gear and even customize his brain.
Zombro is currently featured by Apple in the New and Noteworthy section of the App Store. Zombro is always free to play but certain map sections and premium gear requires in-app purchases. Both iOS and Android versions can be downloaded for free at http://www.makingfun.com
About Making Fun, Inc.

Making Fun, Inc., a division of News Corporation Digital Media Group, is the first full-service social games publishing company. Making Fun blends the financial, production, technology and marketing resources of a big publisher with the passion and creativity of independent developers to deliver an innovative and diverse portfolio of games. By working with external studios across a variety of platforms including social networks, smartphones and tablets Making Fun is working to bring high-quality games to consumers on their preferred device. For more information, please visit http://www.makingfun.com.
About Sarbakan

Sarbakan is an innovative developer of social mobile games and mobile entertainment content. With over 14 years of proven experience as a game studio, Sarbakan delivers memorable and high quality experiences for its worldwide publishing partners and customers. Sarbakan has created over 800 titles since its inception and also offers a wide variety of mobile and digital console game development services. World-renowned media and entertainment giants turn to Sarbakan for its unique and insanely creative approach to creating original IPs. Sarbakan is strategically located in Quebec, QC, Canada, central to both the European and North American markets. For more information, visit http://www.sarbakan.com.
Find More Graphic Press Releases