Jerrys Artarama 44th Anniversary Artist Appreciation Sale Offers Amazing Deals on Art Supplies and Materials at JerrysArtarama.com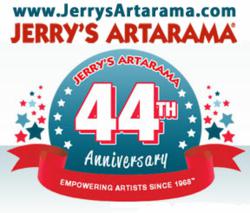 Raleigh, NC (PRWEB) April 25, 2012
Offering a wide selection of the finest art supplies at everyday low prices, Jerrys Artarama prides itself on carrying deluxe, exclusive products not available anywhere else. From premium international paint lines like LUKAS, Turner, and Matisse to the most innovative new art materials like the Dryden Art and Canvas Keeper and ultra-lightweight Butterfly Plein Air Painting Panels, Jerrys strives to provide its customers with the highest quality, unique art materials at prices that are reasonable and affordable. In addition to exclusive items, Jerrys also carries tried and true artists favorites like Winsor & Newton, Holbein, Fredrix, Jullian, Schmincke, Sennelier, Arches, Prismacolor, Daler-Rowney, Fabriano, Talens and many more all at great everyday low prices.
With over 75,000 products on hand, its easy to find the best art supplies at Jerrys Artarama. From professional oil paints to luminous watercolors, deluxe handmade soft pastels to graphic art markers, instructional art DVDs for learning at home to French easels for painting outside, the best in kids art supplies to gifts for experienced professional artists the list goes on and on. Acrylics, canvas, pencils, charcoal, frames, mats, storage, organization, paintbrushes, graphite and more can all be found at Jerrys Artarama at the lowest discount prices.
However, art supplies are not the only thing that Jerrys Artarama offers to artists. Jerrys has built up a wide array of artists resources designed to foster the art community and increase art knowledge. Customers and visitors to the website are invited to partake in over 900 Free Video Art Lessons to learn art techniques at home, read and leave reviews for their favorite art materials, connect with other artists via Facebook and Twitter, submit and learn from art tips from the community, participate in an informational art blog, compete in fun art contests for the chance to win great prizes and more. Supporting the artist and the art community is Jerrys top priority now as it has been for the past 44 years.
"At Jerry's Artarama, we want our customers to know that we are here for them in every way possible and appreciate their patronage, support and relationship. We want everyone to enjoy what they are creating and create more art! We work hard to provide the lowest prices, fast shipping, great promotions and exceptional service every day!" says Director of Marketing Michael Marchetta Operations
In thanks to its customers for 44 years of loyalty, this week, April 23rd through 27th, 2012, Jerrys Artarama is celebrating its anniversary and showing its appreciation for artists in a week-long sale event. For one week only, customers can enjoy up to an extra 44% off the sale price of artist brushes, 33% off the sale price of artist paints, 30% off the sale price of canvas and frames, as well as receive a free gift. Jerrys invites everyone to celebrate its 44th anniversary by taking advantage of the Artist Appreciation Sale or participating in some of the great free artists resources offered on its website. Since 1968, Jerrys Artarama has been a friend and resource to artists the world over, and plans to continue that tradition well into the future.
Jerry opened his own art materials and supplies store in 1968, introducing thousands of budding and established artists throughout Long Island to the wonder of discount pricing. Jerry believed in treating customers like family, and that tradition continues to this day.
To learn more about Jerry's Artarama, visit http://www.jerrysartarama.com