Investing in Rare Earths Proven Lucrative in Absolute Wealths Special Report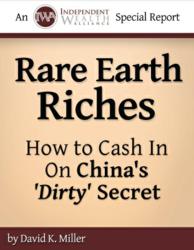 Austin, TX (PRWEB) May 14, 2012
Investing in rare earths has become a growing trend in the trading markets, and Absolute Wealth's latest online article said they are releasing a Special Report to provide the facts and figures that make it such an intriguing opportunity. Demand is high and value is higher, producing a perfect storm of investment potential in an extremely lucrative industry, said the article.
Rare Earth Riches: How to Cash In On Chinas Dirty Secret is the expertly-created guide to the best rare earth stocks that savvy investors are already benefiting from, according to todays AbsoluteWealth.com article. It defines the current international situation, in which Chinas dominance has caused other countries to begin their own mining and production of rare earths. Since rare earth metals are used in such an impressive range of modern applications, the article said demand has blown through the roof.
The Special Report illustrates the reasoning behind rare earths promising future, as technology continues to advance and require more supplies. Rare earth metals are used for their highly magnetic characteristics and their extremely light weights. They allow things like cell phone and car batteries to be produced as efficiently as possible, and are also used in satellites, lasers, and other hi-tech equipment.
The metals themselves (scandium, dysprosium, lanthanum, etc.) are not like gold or silver, where owning the actual physical metal is a worthwhile investment. Instead, the article said companies that are doing the mining and production are where the money-making opportunities lie.
However, finding those companies is difficult, because so many of them are showing up on the scene hoping to be major players in the growing demand for rare earths. The article said only certain ones are poised for success, while others are likely doomed from the start.
Thats why Rare Earth Riches shares advice on the three most promising rare earth element stocks, and why each of them will stand out above the rest. The kind of straightforward, no nonsense information that Absolute Wealth is known for is seeping out of the Special Report, as it provides more actionable information than any other investment guide. The knowledge shared by Rare Earth Riches cant be rivaled, said the article.
Absolute Wealth is an expert team of real investors and advisers devoted to identifying winning strategies for exceptional returns. Members subscribe to the Independent Wealth Alliance for professional investment analysis and recommendations on the latest trends and progressions. For more, visit AbsoluteWealth.com.
The online article said rare earth metals arent going to lose their popularity, even as some technology sectors search for cheaper alternatives and recycling techniques. Much like oil, rare earths will be needed for a long time, and producing them will become even more profitable as the demand continues to grow. Anyone can learn the ins and outs of investing in rare earths with the help of the "Rare Earth Riches" Special Report.