GL Conveys the Availability of Scripted SIP Protocol Emulation and Conformance Suite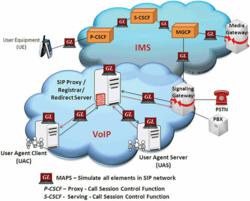 Gaithersburg, Maryland (PRWEB) May 12, 2012
GL Communications Inc. a leader in providing PC-based test, analysis and simulation products and consulting services to the worldwide telecommunications industry, conveyed today the availability of its product MAPS SIP Protocol Emulator Scripted SIP Protocol Emulation and SIP Conformance Suite tool.
Speaking to media persons, Mr. Jagdish Vadalia Senior Manager said, GL's Message Automation & Protocol Simulation (MAPS) designed for SIP testing can simulate User Agents (User Agent Client- UAC, User Agent Server-UAS), Proxy, Redirect, Registrar and Registrant servers. This test tool/traffic generator can be used to simulate any interface in a SIP network and perform protocol conformance testing (SIP protocol implementations).
He added, The MAPS SIP Conformance Suite tool is designed with 300+ test cases, as per SIP specification of ETSI TS 102-027-2 v4.1.1 (2006-07) standard. Test cases include general messaging and call flow scenarios for multimedia call session setup and control over IP networks. Logging and pass/fail results are also reported. Test cases verify conformance of actions such as registration, call control, proxies and redirect servers. The application gives the users the unlimited ability to edit SIP messages and control scenarios (message sequences). "Message sequences" are generated through scripts. "Messages" are created using message templates.
He further added, MAPS can be used to simulate any interface of the VoIP network. A single MAPS can act as more than one SIP entity at a time and can generate any SIP message on wire in VoIP network and hence equipments needed to test are reduced.
Mr. Vadalia further added, GL also provides a Packet Analyzer for on-line capture and decode of the SIP signaling in real-time both during tests and as a stand-alone tracer for live systems
Important Features: