Get Ready For The New Ivy Bridge Gaming Laptops – Says Bizwaremagic.com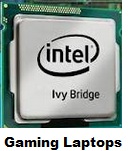 (PRWEB) May 09, 2012
Recently, several new Intel 3rd Generation 22nm based Ivy Bridge gaming laptops were added on Bizwaremagic.com, which runs a comprehensive online laptop buyer's guide. These new Ivy Bridge computer systems offer better performance and much superior graphics than their previous cousins, Sandy Bridge empowered notebooks.
In addition, the new architecture or platform, will operate with less heat and give much longer battery life. These features will make the new Intel CPUs very popular for ultra-thin laptops and tablets, where all these computer components are squeezed into a limited space. Another very obvious application will be with gaming laptops, where superior graphics are much needed to handle today's ever-demanding video games.
Already, we are seeing high-end gaming notebooks from ASUS, MSI and Alienware, hitting the marketplace. We have the Alienware M17x, Asus G75 and the 15.6-inch GT60 and the 17.3-inch GT70 from MSI. All these Ivy Bridge laptops are now featured on the Bizwaremagic.com site and discussed further.
"Intel's main competition for Ivy Bridge will probably be AMD's Trinity," says Titus Hoskins, a former teacher who runs the Bizwaremagic site. "It will be interesting to see what happens when AMD's Trinity, which follows the Llano APUs (accelerated processing units), comes out later this month."
Ivy Bridge empowered laptops will offer improved graphics and longer battery life, two features which will no doubt, prove very popular with consumers in our very mobile obsessed world. Go thin or go home, should be the unwritten motto of Ivy Bridge.
This special updated Gaming Laptops Page can be found here:http://www.bizwaremagic.com/best_gaming_notebooks.htm or download our comprehensive laptop buying guide here: http://www.laptopcomputerguide.org All products/companies mentioned above are registered trademarks of their respective owners and companies.