FileCatalyst to Show Secure and Accelerated File Transfer at CANSEC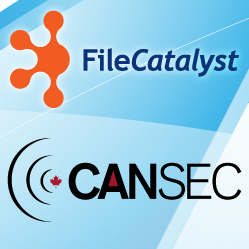 Ottawa, ON (PRWEB) May 17, 2012
FileCatalyst will be at CANSEC in Ottawa, Canada on May 30 and 31, 2012. Join the team at booth 1635 to experience the world's fastest file transfer technology. The lineup presented at the event will include FileCatalyst Direct, FileCatalyst Workflow and FileCatalyst Central. The company will showcase 10 Gbps file transfer technology, along with a web-based management console and a new mobile app.
The FileCatalyst protocol sends and receives files at the maximum available line speed. To demonstrate the protocol's efficiency, the team will be showing how FileCatalyst transfers can reach and sustain transfer speeds of 10 Gbps for a single file. This is not only hundreds of times faster than FTP but also faster than competing accelerated file transfer solutions.
"Having the ability to transfer files at top speed improves your entire chain of file-based processes," says Chris Bailey, CEO of Unlimi-Tech Software. "FileCatalyst's ability to send at 10 Gbps highlights the efficiency of its unique protocol, the benefits of which can be realized even on lower speed links. "
Also on display is FileCatalyst Central, which provides a consolidated, web-based view of your entire FileCatalyst deployment. Once a node is connected to FileCatalyst Central, it will be displayed as part of the global view. Each node can then be remotely controlled, allowing the initiation of ad-hoc or scheduled file transfers from one node to another.
In addition, FileCatalyst will be demonstrating a new mobile app. The FileCatalyst Uploader lets users select files from their portable device for upload to a FileCatalyst Direct Server. The app includes features such as intelligent network switching (i.e. 4G to WiFi), pause/resume, and recovery from complete loss of connection. The demonstration will let visitors have a first look before public release.
For more information about FileCatalyst technology, please visit booth 1635 or on the web at filecatalyst.com
About Unlimi-Tech
Located in Ottawa, Canada, Unlimi-Tech Software is the creator of FileCatalyst, the world's leading file transfer solution. Founded in 2000, the company has more than a thousand commercial and government clients.
FileCatalyst is a software platform designed to accelerate and manage file transfers. FileCatalyst is immune to the effects that latency and packet loss have on traditional file transfer methods like FTP, HTTP or CIFS. Global organizations use FileCatalyst to solve issues related to file transfer, including content distribution, file sharing and offsite backups.