Established Toronto Plumbers Launch New Online Presence: OneTorontoPlumbing.com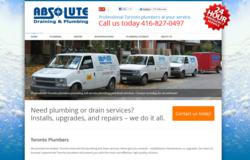 Toronto, On (PRWEB) May 15, 2012
Established Toronto plumbing contractors Absolute Draining and Plumbing recently launched their new website at OneTorontoPlumbing.com. With more than 10 years experience serving homeowners around the GTA, the company is well-versed in Torontos unique water supply and drainage systems, and the needs of local residents.
We are committed to providing quality plumbing services at affordable rates, says Andrew Olexiuk, CEO of Absolute Draining and Plumbing. We have a range of high-tech plumbing equipment, which enables us to cover every plumbing need. Olexiuk says the companys services include toilet and faucet replacement or repair, drain snaking/cleaning and maintenance, sewer rehab and repair, and video camera inspection.
With 12 professional plumbers operating five fully-equipped trucks, the team is ready to tackle the biggest plumbing challenge at a moments notice. But its not all just about doing business, says Olexiuk. Our new website provides users with comprehensive information on issues such as water installations and upgrades, basement waterproofing, foundation repairs and backflow prevention. The new site also has a plumbing blog, which Olexiuk reckons will become an authoritative resource for homeowners who want to try their hand at basic repairs.
Absolute Draining and Plumbing provides drain lining services in the Greater Toronto Area, and custom-builds proprietary materials used in the process. Their custom drain liner materials are available not only to plumbers and general contractors, but also to the general public. Drain lining is a form of drain repair that eliminates the need to dig trenches. The process involves inserting a resin-fortified bladder into the pipe and allowing the resin to set, and can be done with access to both ends of the pipe.
Call us for a free estimate for your plumbing needs, including preventative maintenance and water installation, says Olexiuk. We make it our business to have a plumbing solution for you.
About Absolute Draining and Plumbing:
Absolute Draining and Plumbing has provided plumbing services to residents across the GTA since 1998. The company services Toronto, Missisauga, Etobicoke and Scarborough with 12 professional plumbers and five fully-equipped trucks. On call 24/7, these professional Toronto plumbers have access to the most modern, high-tech equipment and are available 365 days a year.
Absolute Draining and Plumbing

51 Homewood Ave

Toronto, ON M4Y 2K1

T: 416-827-0497