End of an Era: World's Last Continental Aircraft Gets United Makeover from Leading Edge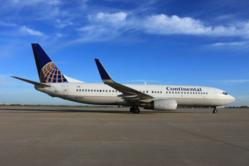 Costa Mesa, CA (PRWEB) April 26, 2012
Leading Edge Aviation Services (LEAS), the largest commercial and military aircraft painting company in the world, celebrated the end of an era today, as it converts the worlds last remaining Continental aircraft to the newly merged United livery. A fixture of the skies since 1937, Continental grew to become one of Americas largest commercial carriers before announcing its merger with United in 2010. Since then, Leading Edge has worked around the clock to transition the entire fleet of 345 aircraft to its new look, completing a steady stream of aircraft from painting facilities in Texas, Mississippi, and California.
Were honored to be a part of this historic moment as we say goodbye to one of the oldest and most celebrated brands in aviation history, said Mike Manclark, President and CEO, LEAS. Since before WWII, Continental has been a part of the American fabric, shaping the way we travel for more than 75 years. With both domestic and international service, few airlines impacted as many travelers for as many years as Continental. Its a truly remarkable story.
The final Continental aircraft, a Boeing 737, is scheduled to be completed on April 26th in Amarillo, TX. It marks the second major fleet transition for Leading Edge, which also converted more than 500 aircraft for the recent Delta/Northwest merger. In all, Leading Edge painted more than 550 aircraft last year, more than any other company in the world.
Completing this project was a major accomplishment for Leading Edge, and a true team effort, added Manclark. Since 2010, at least one freshly-painted aircraft has emerged from our hangars virtually every day with fresh United livery. Four facilities worked day and night to make it happen, often supporting 11 lines of aircraft painting at a single time. Its a testament to both our capacity and our drive. Although its hard to say goodbye to such a historic American icon, were thrilled to be a part of its reinvention as the new United.
About Leading Edge Aviation Services

Headquartered in Costa Mesa, California with state-of-the-art facilities nationwide, Leading Edge Aviation Services, Inc. is the largest, most advanced commercial and military aircraft painting company in the world. Founded in 1989, the companys undeniable success is attributed to its strong vision and a continuous commitment to quality and excellence. Today, Leading Edge delivers an extensive range of commercial services including aircraft interior and exterior painting, OEM production coatings application support, mod-center painting services support, VVIP aircraft interior completions and exterior paint, aviation graphics, aircraft weighing, long- and short-term aircraft storage, field audits, fleet assessments, interior deep cleaning, and aircraft exterior wash and polish. For more information, visit our web site at http://www.leadingedgecorp.com.