Education Matching Service College Complete Spokesman Justin Lofton Continues Hot Streak in Kansas with Seventh Place Run in his NASCAR truck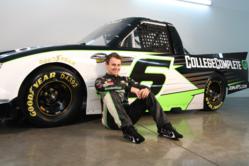 Sea Cliff, NY (PRWEB) April 23, 2012
Justin Lofton tallied his fourth straight top-10 run on Saturday at Kansas Speedway, continuing his strong start to the 2012 NASCAR Camping World Truck Series (NCWTS) season. Lofton started the SFP 250 from the third position, and after his No. 6 College Complete (http://www.collegecomplete.com, 877.543.2655) team adjusted on his Chevrolet throughout the day, crossed the finish line in the seventh position.
"I am so proud of these guys on this College Complete team. We battled with the truck a little bit out there. It was pretty aero tight. We made a few adjustments and it helped a little bit. For some reason I was off just a small amount on a few of those restarts, but we'll take seventh. You know it's a good day when you are upset about a top-10," Lofton said.
Lofton began his visit in Kansas early, spending the day Thursday at Fort Riley Army base. The visit was Lofton's third in as many years. This time, he brought along his entire No. 6 College Complete Eddie Sharp Racing (ESR) team. On Saturday, Lofton was joined by two dozen soldiers from Fort Riley for the 167-lap race. Knowing that many of the soldiers who were on hand had just returned from a deployment overseas, Lofton was motivated to bring home a strong run for them.

Once the green flag waved at the 1.5-mile Kansas track, it took only two laps for the field to see a caution flag. On lap 37, the yellow was out again, allowing Lofton to make his first pit stop of the race. He pulled down pit road to the attention of his College Complete team for four tires, fuel, and a spring rubber adjustment. The No. 6 team pulled into the pits in fifth, and after a solid stop, rejoined the race in fifth.
As the race went on, the only complaint Lofton had was that his Chevrolet seemed to be riding a little rough on the right side, noting that the truck was battling an aero-tight condition.

With just under 100 laps left to run, Bormann called him down pit road for another pit stop. After pulling back on track however, the yellow flag waved, putting Lofton 13th for the restart.

Less than six laps later, he had muscled his way back into the top-10. The California racer continued his charge until being called down pit road once they hit their fuel window 17 laps from the finish. Bormann opted for two tires only, sending Lofton back on track in 14th.
As the stops cycled through the field and the laps clicked down, Lofton wheeled his way into the seventh position. The result gave him his fourth straight top-10 finish. Just four races into the 2012 season, Lofton has already surpassed his top-10 count from 2011. He is currently third in the driver point standings, 11 points out of the top spot.
Lofton and his College Complete ESR team will observe a few off weeks in truck competition before returning to the track at Charlotte Motor Speedway on May 18th.
Lofton however, will not be too far from a race vehicle, as he plans on running two off-road events in his No. 77 class 1500 General Tire / College Complete buggy.
About College Complete
Partnered with hundreds of educational institutions and across all types of education goals, including traditional college degrees, trade and vocational certifications, and professional licensure, College Complete helps students assess all of the information that exists in the public domain, allowing them to understand and make sense of their educational opportunities. Their services are free and available to anyone.