Courtyard Hotel in Emeryville, California Completes Major Renovation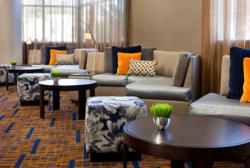 Berkeley, CA (PRWEB) June 26, 2012
One of the best hotels near Berkeley, California, just got a little better thanks to a new renovation.
The Courtyard Oakland Emeryville Hotel, featuring 296 spacious rooms, has completed a major renovation of its lobby and on-site amenities. As one of the most convenient hotels in Emeryville, California, the Courtyard now features the brands new Refreshing Business lobby concept, designed to give travelers the flexibility to work and socialize however they choose while on the road.
From day one, Courtyard has prided itself as a brand that listens to what travelers want from a hotel, said Janis Milham, vice president, Global Brand Manager, Courtyard by Marriott. Guests want more control and choice with services and amenities that create a healthy balance between working and relaxing. We redefined the Courtyard lobby so it invites guests to get out of their rooms to work, socialize or for entertainment, whether traveling alone or with colleagues.
With new bright colors and a contemporary design, the hotel near Berkeley welcomes guests with new features the moment they walk through the door. The traditional front desk is replaced with separate welcome pedestals to create more personal and private interactions when guests check in. Guests can also kick back and relax with new flexible seating options including a communal table, private media booths with high-definition televisions, and an intimate, semi-enclosed lounge area.
Unique among hotels in Emeryville, California, the exclusive GoBoard