American Nuclear Society Honors W. David Pointer with Landis Young Member Engineering Achievement Award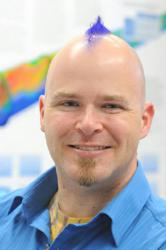 LaGrange Park, IL (PRWEB) June 19, 2012
American Nuclear Society (ANS) member W. David Pointer, PhD, has been named the recipient of the Landis ANS Young Member Engineering Achievement , ANS President Eric Loewen, PhD, announced today. Loewen will present the award to Pointer during the opening session of the ANS Annual Conference: Nuclear Science and Technology: Managing the Global Impact of Economic and Natural Events, being held June 24-28 in Chicago, Illinois.
"The Landis Young Member Engineering Achievement Award recognizes the outstanding contributions of our young engineers and scientists who are actively working to advance nuclear energy to benefit humanity," said Loewen. "David Pointer represents the best and brightest of the technical community, and we are proud to count him as a member of the American Nuclear Society."
The Landis Young Member Engineering Achievement Award recognizes the following achievements:
W. David PointerIn recognition of his outstanding young career, exceptional technical achievements, and excellence in leadership to support development of next generation simulation tools on high-performance computing platforms.
Pointer is Manager of the Engineering Simulation Section of Argonne National Laboratory. He is a research engineer working primarily in the development and application of advanced engineering simulation methodologies for fluids engineering, heat transfer and mechanical design. He holds his BS, MS and PhD in nuclear engineering from the University of TennesseeKnoxville. He joined ANS as a student member in 1996 and has served in a variety of leadership roles, including his current position as Chair of the ANS Public Information Committee.
The Landis ANS Young Member Engineering Achievement Award was first awarded in 1980 to recognize outstanding achievement in which engineering knowledge has been effectively applied to yield an engineering concept, design, safety improvement, method of analysis or product utilized in nuclear power research and development or commercial application. Emphasis is placed on achievement demonstrating a high degree of technical merit and ingenuity. The candidate must be less than 40 years of age at the time of nomination.
For more information about the ANS conference, visit http://www.ans.org. For information about ANS Honors and Awards, visit http://www.new.ans.org/honors/.
Established in 1954, ANS is a professional organization of engineers and scientists devoted to the peaceful applications of nuclear science and technology. Its 11,600 members come from diverse technical backgrounds covering the full range of engineering disciplines as well as the physical and biological sciences. They are advancing the application of these technologies to improve the lives of the world community through national and international enterprise within government, academia, research laboratories and private industry.