ActSeed Launches Android Smart Phone App for Entrepreneurs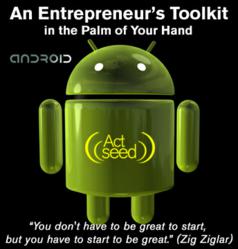 Orlando, FL (PRWEB) June 13, 2012
Entrepreneurs and small business owners are constantly moving and not always in front of their computers, so ActSeed developed a smart phone app that empowers individuals with helpful information wherever they are. The ActSeed app is now available on the Google Play app store as a free download and can be found by searching the keyword "ActSeed" or clicking here: http://bit.ly/App-GoogleAndroid-ActSeed. ActSeed apps for iPhones and iPads are forthcoming.
Using this app, an entrepreneur can quickly:

Browse or search ActSeed's entire small business knowledgebase,
Ask a startup- or small business-related question to the ActSeed team,
Share his or her ActSeed profile with investors and other key contacts anywhere and instantly,
Quickly capture and share key thoughts using the voice recorder / sender,
Find unique deals on valuable small business services or scan a QR code
Active, persistent engagement via smart phones is no longer a future expectation. Adoption is already broad and usage continues to climb. According to a 2011 report (1) commissioned by Google and the Mobile Marketing Association, there are 82.2 million smart phone subscribers in the US alone, and 80%-90% of them use mobile search engines daily, use mobile social media, seek relevant content and local information, and plan to increase their smart phone app usage over the coming year.
To build its smart phone app, ActSeed worked with Vandrio Software Systems (http://www.vandrio.com), a Lake Charles, Louisiana-based developer of custom smart phone apps that are affordable for small businesses and robust enough for big brands. "The smart phone and tablet markets are changing how consumers and businesses engage," said Chad Steinhauser, CEO of Vandrio. "Mobile devices are more than just shrunken web sites; they power business-changing applications that improve customer relations and enhance productivity."
"As part of ActSeed's evolution, we want to assure our business services were only a few clicks away from our entrepreneur community, which means we support them wherever they are, not wait for them to return to their PC," said Bill Attinger, CEO of ActSeed. "The most effective entrepreneurs are known for efficient time management and we wanted to enable them to make the most of every waking second of the day. Our goal is to combine relevant functions and simple design into one very useful application."
About ActSeed

ActSeed is a national online community for startups, early stage companies and small businesses, primarily focused in the US. Since 2009, ActSeed has been helping reduce the unacceptably high failure rate of early stage businesses by connecting thousands of entrepreneurs to tools and resources critical for growing their businesses. To learn more, please visit http://www.actseed.com.
If you would like more information about this topic or to arrange an interview with Bill Attinger to learn more about ActSeed's work with entrepreneurs, startups and small businesses, please call (858) 688-2129 or send an email to media(at)actseed(dot)com.
…………………..

(1) "Global Perspectives: The Smartphone User & The Mobile Marketer" Commissioned and published by Google/Mobile Marketing Association, Conducted with Ipsos/TNS, June 2011
Find More Computer Press Releases