20 Years of Slang – How Pop Culture Influences the Way We Speak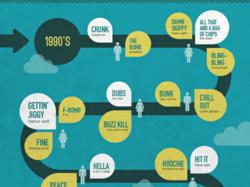 San Diego, CA (PRWEB) April 19, 2012
Skybox Creative, a branding and web design studio in San Diego releases new graphic design project: Infographic 20 Years of Slang. A group of innovative designers and creative minds, Skybox planned out this concept during an inspiration session in a recent staff meeting.
We wanted to put our creative talents towards a fun project we could share; one that would make people think but also make them laugh. said Angelina Sereno, the CEO of Skybox Creative. What we found most interesting was how words and phrases have morphed over time. For instance, we see a lot more initialisms and combined words that sound really funny in the 2000s. Some of the words in the infographic are a little daring or sexually charged, but it is a direct reflection of what we see happening in the world, especially in pop culture.
Each slang term has a brief definition below to clarify the meaning behind the word or phrase. Preliminary research was conducted on Facebook to gather some of the most commonly used phrases over the last 20 years.
This timeline style infographic has a unique curvy path walking the reader through the decades to visually represent the evolution of language as we know it. The simplified talk bubbles and human illustrations, as well as the zig zag lines, rich color and texture, all draw from current design trends. Well executed and thought out, the infographic blends the world of business with the trendy world of pop-culture.
Skybox hopes this project will open the doorway for more daring and playful infographics to emerge.
Please check out our infographic and let us know what you think! Be sure to share the image with your friends for laughs, and those who used these terms way too much.
To view the illustration, please visit our website article.
Find More Graphic Press Releases