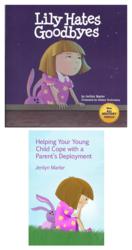 Beaverton, Oregon (PRWEB) April 09, 2012
Every day thousands of military children sadly wave goodbye to a parent (sometimes both parents) who will be gone for what seems like a billion days. Jerilyn Marler, author of Lily Hates Goodbyes and Helping Your Young Child Cope with a Parents Deployment, says, Deployment is a high-stress experience for the whole family, and its especially hard on children. Marlers books, which are available online through Amazon and Barnes & Noble, help ease that stress.
In March 2012 Marler released Helping Your Young Child Cope with a Parents Deployment in paperback and digital formats. This lively and concise handbook discusses what children need in order to thrive before and during deployment separations. It also describes 22 ways to help children feel connected with the away parent. The ideas include Mommy/Daddy Dolls for cuddling, a framed photo of the away parent at the dinner table so everyone is together during meals, and a memories box to hold mementos and keepsakes to share when the away parent returns home.
Marlers childrens book Lily Hates Goodbyes is one of the 22 suggestions in the parent handbook. Marler said, Kids love Lily. One little reader carries the book with her everywhere because she never knows when shes going to be sad about her daddy being away. She keeps Lily close to help her.
Marlers storybook for children ages 2-7 is now available in two versions. The slightly updated original is now labeled the Navy Version because the daddy wears a Navy uniform. Marler said, Many parents from other branches of the military asked for their own version of the book. I couldnt do that, so I did the next best thing. In the All Military Version the daddy wears a generic BDU uniform with no branch or rank designation. All service members can relate to it. Other than the uniform, the two versions are identical.
Children often dont know how to express their pain and grief and so they act out. Marler said, "Helping children understand their sometimes scary emotions is a vital part of helping them cope with the separation." In Lily Hates Goodbyes children find a friend who feels the way they do. They see Lily learn healthy ways to cope and learn to be happy despite the separation. Lilys story reassures them that a happy hello is coming with a joyful reunion.
Marler writes from personal experience about coping with goodbyes. She attended boarding school in India as a child with long separations from her parents. Her father was a Navy doctor before the family moved to India. Her first husband was Vietnam-era Army enlisted. Her son is an active duty Navy officer. When Marlers granddaughter Lily suffered terribly with her daddys time at sea, Marler wrote Lily Hates Goodbyes. It was a Word document with personal photos intended just for Lily. It helped her so much that Marler hired Nathan Stoltenberg (http://nathanstoltenberg.com), a Seattle graphic artist, to illustrate the story. She then published it for all children who have to say goodbye for about a billion days.
In March 2012 the Moms Choice Awards named Lily Hates Goodbyes among the best in family-friendly media, products and services. The book is also on the reading list of the United Through Reading Military Program. It has glowing five-star ratings on Amazon.com. Im grateful for all the positive reviews, Marler said. But when children tell me that they love the book, I am thrilled.
Marlers goal is to reach as many military children as possible. She said, Lily and her beloved bunny Quincy are standing by, ready to help them.
To learn more about Marlers books, visit her website at http://jerilynmarler.com/published-books. Her books are available online at Amazon.com and Barnes and Noble.
****
About Jerilyn Marler: CEO of Quincy Companion Books, Marler is an author, editor, publisher, and speaker focused on helping military families thrive during separations. A writer and editor since 1979, She lives in Beaverton, Oregon with her husband Dan (a Navy Vietnam veteran) and their two tabby cats.
Jerilyn Marlers Press Kit: http://jerilynmarler.com/presskit
Related Graphic Press Releases