The Yearbook is Finished! Now What? Top Five Most Important Projects to Complete Once Your Yearbooks are Done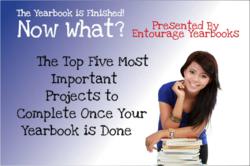 (PRWEB) April 17, 2012
As yearbook advisors finish up their yearbooks this spring, a commonly asked question is: What do I do now? Wrapping up the year with these five easy projects will ensure the success of this year's yearbook, and a head start on the next!
1. Finish up strong: Put as much effort into your yearbook distribution as you spent on making the actual yearbook. Making sure that the yearbooks] get into the hands of the students and staff as quickly and efficiently as possible will not only mean less headaches for you, but will also ensure that the school staff and administrators will continue to support the project in the future. Some ideas for a seamless yearbook distribution include: making a master list of yearbook orders, and educating the staff and students on how books will be distributed.
2. Make your book a BIG deal: You slaved away on it for months, now is your time to let it shine! Plan some events to showcase the yearbook at the end of the year: organize a yearbook-signing party at the school or unveil the final book at a pep rally. "Getting the students excited about their books will help boost yearbook sales, and help to continue the growth of the yearbook tradition at your school, " said Jennifer Richard, yearbook Account Manager at Entourage Yearbooks. "In schools that really promote their yearbook, we see yearly growth in both the number of books sold, and the number of students that want to participate in creating the yearbook."
3. Evaluate your yearbook experience: Take some time to reflect on how the whole yearbook process went this year. What were you most happy with? What would you most want to change? Meet with your yearbook staff and ask them the same questions. Do an internal "judging" of your yearbook itself to pinpoint areas where you would like to improve the publication in the following year. Keep track of these assessments as you begin to plan for next year.
4. Save your book for the future: A lot of work went into making your yearbook, make sure you keep the parts that you can easily reuse for next year. Back-up all of your files so that you have access to yearbook templates, style guides, and your yearbook ladder. Often, you can transfer the majority of your yearbook ladder over from year to year. Templates can be quickly modified to reflect a new style and theme while preserving the integrity of classic yearbook design. Save some pictures as well. If you snapped a great shot of a teacher who is notorious for skipping picture day, save it! "Many yearbook companies will provide storage for yearbook templates and photos year over year," adds Richard. "Entourage Yearbooks, as well as Jostens and Balfour, will transfer project elements from one year to the next."
5. Get a head start: Spend the rest of the school year and the summer working with your yearbook staff to set up the next book. A great exercise is to have all of your staff members create a theme packet, including a theme idea, opening pages, a divider template, theme-related graphic elements, a cover design, spin-off words and phrases that relate to the theme, and a style guide. Work in groups or as individuals to create several different theme packets, present them to the whole staff, and decide on one theme, or a combination of several to become your next yearbook!
Entourage is the fastest growing yearbook company in the United States. They work with schools nationwide and provide yearbooks to every continent. To learn more about finalizing your yearbook project and yearbook distribution visit the Entourage Yearbooks website at http://www.entourageyearbooks.com.