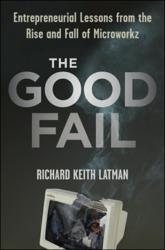 Baltimore, MD (PRWEB) May 17, 2012
Richard Keith Latman writes in his new book, THE GOOD FAIL, about a phone call he received in 1999; Ive just received notice that the Attorney Generals office has commenced a formal action against you. Bye bye. This phone call would forever change his life.
Founder and then CEO of Microworkz, a technology company that Latman dreamt would provide affordable and educational computers to those less fortunate, Latman and his business were thrown into the center of a formal investigation led by the state of Washingtons Attorney General.
This legal action would ultimately result in fines from Microsoft, the dissolution of Microworkz, a personal bankruptcy, divorce, severe depression and suicidal thoughts.
THE GOOD FAIL: From Microworkz to Latman Interactive (Wiley, May 2012) tells Latmans story and explains why failure is a necessary stepping stone to success.
A good fail is a failure that has a learning value greater than the offset collateral damage. It is a failure that one is unlikely to repeat, but that helps to positively shape the persons managerial style and business acumen. These types of failures are inherent to success and lead to new ideas about customers, innovations, and business plans.
THE GOOD FAIL explains how companies can master this process of risk-taking and stumbling towards success in order to better their business. Latman offers advice for getting good at failure and 19 ways to avoid A GOOD FAIL, such as: