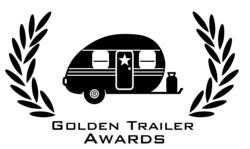 New York, NY (PRWEB) May 17, 2012
Nominations were released today for the 13th Annual Golden Trailer Awards, the worlds top honors for movie promotion (goldentrailer.com). A commanding panel of film industry pros will judge the selections, with winners to be announced at a gala event on May 31st in Los Angeles. Evelyn Brady-Watters, Executive Director, and Monica Brady, Executive Producer of the Golden Trailer Awards, made the announcement.
The most anticipated Golden Trailer Awards are the 16 in the Theatrical Trailers section, distributed on awards night. Among the nominees this year are promos for The Bourne Legacy, which nabbed spots on both the Best Thriller and Most Original lists, The Hunger Games for Best Action, Bully for Best Documentary, and W.E. for The Golden Fleece Award, which applauds the best reel for a bad movie. The Girl With the Dragon Tattoo is vying for Best Drama, while in the Most Original category, The Muppets appears with the trailer, The Pig With the Froggy Tattoo. The jury will crown one winner Best of Show.
Looking at the years trends, Evelyn Brady-Watters noted a big dip in genre entries. There were 50% fewer horror trailers submitted this year, but we saw a dramatic increase in romantic comedies. Summing up her overall evaluation she added, Weve seen a lot of exciting trailers, which lets me know this is a good year in movies.
In all, there are 62 Golden Trailer Award categories, honoring the full spectrum of film promotion--posters, TV spots, film festivals and more. A range of 10 awards are given to trailers for films from outside the U.S., including for Best Anime. Additionally, there is an award for Best Videogame Trailer. The full list of nominations is below, or at http://www.goldentrailer.com/awards.gta13.php
THE JURY:
Director, writer and actor Jon Favreau (Director,Iron Man), actor-comedian Patton Oswalt(Young Adult), and iconic producer-director Ivan Reitman (Ghostbusters), are among the boldface names in the 2012 jury. Joining them are former President/CEO of CBS Films Amy Baer, now President of film production and media consulting firm Gidden Media; Dana Brunetti, President of Trigger Street Productions (the promo reels for the companys The Social Network swept the Golden Trailers last year); Randall Emmett and George Furla of production and finance house Emmett/Furla Films; Jessica Hall, Director of Development at Blumhouse Productions; Alix Madigan, Head of Feature Films for Anonymous Content; Nancy Utley, Co-President of multiple Oscar