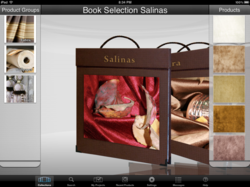 (PRWEB) March 16, 2012
A few centuries ago, Thomas Jefferson remarked: He who receives an idea from me, receives instruction himself without lessening mine; as he who lights his taper at mine, receives light without darkening me.
Two hundred years later, a few senior textile executives and a software engineer were inspired by one of the genius' of our time Steve Jobs. They watched as economic turmoil drove up the price of raw materials, threatening the industry with seemingly insurmountable challenges. And they knew that if companies were to survive it would take more than just offering more and better products at a better prices than the competition ... it would take radical change and innovation from within. Most of all, it would take embracing new technology to support cost-cutting measures. With reduced overhead costs in areas like sampling, savings could be passed on to clients.
Envisioning a brighter future the idea for iDesign Center was born. Now with this powerful new technological innovation things like speeding up the process of bringing new collections to market can give companies an important competitive edge.
Today, in an age of sweeping technical innovation it's clear that knowledge drives growth, and the economy grows not so much by creating more things, but by developing new ideas.
A key principle of New Growth Theory is that new technology (and not capital and labor) are central to continuing growth. Can this be true for nuts and bolts industries like the textile and design industry trades?
The truth is that to meet the challenges of a troubled economy characterized by stifled consumer consumption -- and where the cost of doing business has mushroomed in the face of spiraling raw material costs, like increases of 600% for cotton; 400% for silk, and logistics costs for FedEx and UPS basic rates that have also skyrocketed by over 200% in just eighteen months. And where competition grows ever fiercer as more and more new companies quickly enter the field, buying up 1-2 years of cheap product.
In order to survive and prosper in this heated environment the entire textile and design trade needs to grow from the inside out; in ways less dependent on external influences and more about companies' internal actions.
Already successful with launching internal innovations to meet external challenges many designers have been quick to adopt 'Apple' products, especially textile designers; the people that generate designs for mills. Successful leaders in the textile design industry, manufacturers of textile design software, like NED Graphics use Apple almost exclusively.
In fact, today, the business environment for the textile and design trades is more connected and more challenging then anyone could ever have dreamed.
Forward thinking companies are responding with initiatives to harness the momentum of technological advances like the iPad. One of the most innovative new iPad applications to benefit the trade is iDesign Center. This application lowers high logistics costs, allowing companies to pursue attractive customer segments and to expand their geographic footprint. Client presentations can take place in a virtual environment; a key advantage in reducing overhead costs associated with the burden of cumbersome sample books and where electronic mail can replace slow land, sea and expensive air-based mail systems.
Product introductions are seamless with iDesign Center, resulting in a more confident, better-informed sales force, faster response times, and a more satisfied customer base, less likely to have to explore competitive options.
Strategically-- as the design/decor industry grows more competitive overhead, and costs of doing business need to be capped. As companies fight for a share of customers' shrinking "luxury budget", logistics costs must be reduced in order to give the customer more for their money. Without internal changes that require embracing new technologies -- only few will survive.