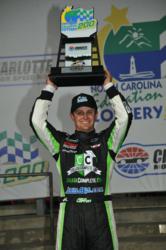 Sea Cliff, NY (PRWEB) May 24, 2012
As Friday night came to a close at the North Carolina Education Lottery 200, and Justin Loftons first ever NASCAR Camping World Truck Series Victory Lane celebration concluded, College Complete (http://www.CollegeComplete.com 877-543-2655) partner Star Coach Race Tours (http://www.starcoachracetours.com) hosted a surprise post-race after-party to celebrate the win.
Since 2011, College Complete has been working exclusively with Star Coach Race Tours to provide all inclusive on site hospitality at NASCAR tracks. Race after race, the employees at Star Coach, and its founder, Joel Labute, watched Lofton come closer and closer to a win. And this past weekend, they were together again in Charlotte, NC, this time celebrating Justin Loftons first NASCAR win.
Throughout the week, the College Complete team enjoyed top-notch on site accommodations, meeting and getting to know other Star Coach guests and clients who were all perched on the coachs observation deck just off turns 3 and 4. By the time Fridays truck race was over, Lofton and College Complete earned themselves a bunch of new fans.
We were so happy to be able to share the evening with the team from Star Coach, who have been there for us since we started in NASCAR last year said Dan Haim, CEO of College Complete. To be able to enjoy the weekend and that night without any worries was awesome and we look forward to doing it again very soon.
The College Complete team celebrated into the night with everyone at Star Coach as well as many of the fans and look forward to joining up with them again in Dover next week.
About College Complete
Partnered with hundreds of educational institutions and across all types of education goals, including traditional college degrees, trade and vocational certifications, and professional licensure, College Complete helps students assess all of the information that exists in the public domain, allowing them to understand and make sense of their educational opportunities. Their services are free and available to anyone.