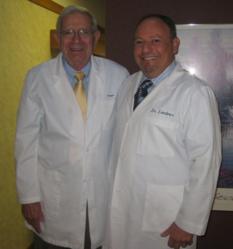 Greenville, South Carolina (PRWEB) May 22, 2012
To celebrate their 50th anniversary, South Carolina dentists, Dr. Lindner and Dr. Alpert, have announced the launch of a new, patient-focused website created by dental website design leader, ProSites, Inc. Drs. Lindner and Alperts practice is utilizing the website to educate the community on the importance of oral health and the dental procedures they offer including porcelain veneers in Greenville.
We understand that in todays world, almost everyone has access to the internet via their smartphone or computer. So we decided to build a website that would inform people locally and out of state who are in need of our services a way to find us, said Dr. Lindner.
The website provides dental information to help patients make better educated decisions about their oral health. Current and prospective patients now have access to information about providers, patient reviews, and other informative content when they visit the website. Some of the services offered by Drs. Lindner and Alpert include:
TMJ Treatment

Porcelain Veneers
The website includes a blog page with informative dental content and a results page with before and after photos of dental procedures. The website also utilizes extensive search engine optimization techniques to reach patients and local consumers who are searching for relevant information about TMJ Treatment in Greenville.
Our website was designed to let our visitors know who we are and what we believe in. Our purpose is to become your personal dental consultant. Only then can you make the right treatment decisions for you. Through our blog, we will be posting relevant articles, new procedures, products, and events relative to TMJ joint based occlusion and restorative dentistry, said Dr. Lindner.
About Dr. Lindner and Dr. Alpert:

Dr. Leor Lindner graduated from Farleigh Dickinson School of Dentistry in 1990. For over twenty years, Dr. Lindner has had a passion for changing lives one smile at a time and has trained with some of the world's most prominent cosmetic dental specialists. Dr. Lindner has completed extensive post-doctoral training in cosmetic and reconstructive dentistry at the world renowned Aesthetic Advantage in New York City. Dr. Lindner is a member of the South Carolina Dental Association, Piedmont Dental Society, American Dental Association, New Jersey Dental Association, and the Monmouth Ocean County Dental Society. He is an alumnus of the Pankey Institute, Eubanks Institute, and Dawson Academy. He is also a member of the American Academy of Cosmetic Dentistry, which is the largest organization in the world devoted to aesthetic dentistry.
Dr. Richard Alpert graduated from the University of Tennessee, College of Dentistry in 1961. He has presented programs throughout the United States to study clubs, various state dental meetings and dental organizations, and has produced several dental educational television programs. Dr. Alpert is a guest lecturer as Associate Faculty of the L. D Pankey Institute. He also participates in private lectures and as a dental consultant. Dr. Alpert is currently the President of SC Academy of Dental Practice Administration.
For more information on Drs. Lindner and Alpert, please visit their website at welove2smile.com.