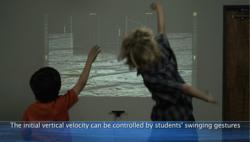 Los Angeles, CA (PRWEB) May 08, 2012
SMALLab Learning LLC, a leader in embodied learning, and eInstruction Singapore, the preferred partner for teaching and training solutions, have recently announced that SMALLab Learning products will be available in Singapore.
With eInstruction Singapore, SMALLab Learning will be able to provide cutting-edge learning environments, software and services to schools in the Southeast Asian city-state. We believe that eInstruction is a proven leader in delivering exceptional classroom technology and customer service, says Cyndi Boyd, SMALLab Learning Account Manager. Singapore is a world leader in education, consistently maintaining a top 5 ranking in international measures of science learning, notes Mina Johnson-Glenberg, Co-founder and Chief Learning Officer of SMALLab Learning.
SMALLab Learning offers two environments, SMALLab and Flow, with a diverse and continually growing library of embodied learning scenarios that cover a broad range of topics across all grade levels including physics, chemistry, biology, earth science, English language arts, and the performing arts. SMALLab Learning maintains an open-source software development kit that allows students, teachers, and 3rd party developers to create new scenarios.
Flow brings embodied learning to any existing Interactive Whiteboard or projection surface using Microsofts Kinect motion-capture camera technology. Flow is designed to get students playfully engaged - and physically moving as they learn. Students use their hands and bodies to interact with dynamic learning content in real 3D space. They work collaboratively to create and to manipulate images, sounds, text, and graphics.
SMALLab uses 12 motion-capture cameras to track students movements as they learn in an immersive, interactive space. For example, in the Constant Velocity Scenario, physics students can hear the sounds of their actions getting faster, see graphs that change in real time, and feel how their bodies move through the space.
If you are interested in SMALLab products and services in Singapore, contact enquiry(at)einstruction(dot)com(dot)sg. Outside of Singapore, contact sales(at)smallablearning(dot)com.
About SMALLab Learning

SMALLab Learning is advancing embodied learning in schools, museums, libraries, and the home. Embodied learning is kinesthetic, collaborative, and multimodal, enabling students to learn in new ways that integrate physical action with digital media. The company offers a suite of products that have been demonstrated effective. SMALLab Learning LLC emerges from over six years of research conducted at the Arizona State University School of Arts, Media and Engineering in the Herberger Institute for Design and the Arts with funding from the National Science Foundation, the MacArthur Foundation, the Gates Foundation, Intel Research, and the Kauffman Foundation. For more information, please visit http://smallablearning.com/research.
About eInstruction Singapore

eInstruction Singapore has been providing clients with cutting-edge solutions and highly acclaimed services, training, professional development seminars and consultancy since 2003. The company is driven by one passion: to help Educational Institutions, Corporations and Government Organizations achieve more results with less effort by leveraging cutting-edge learning and training solutions. eInstruction Singapore gives their clients more for less and works with the best companies in each respective market.
What is Embodied Learning?

Embodied learning is an emerging field that blends human computer interaction with learning sciences. Cognitive scientists have discovered compelling evidence that most language and cognition is grounded in a bodily experience. This suggests that embodied, physical activities can lead to more effective learning. Embodied learning has the potential to transform K-12 learning in schools, museums, and community centers.