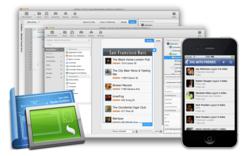 Redwood City, CA (PRWEB) April 17, 2012
Sencha, the leading provider of HTML5 frameworks and tools for desktop and mobile application developers, has announced the immediate availability of Sencha Architect 2, a major upgrade of Ext Designer. Sencha Architect 2 is a visual application builder that makes it easy for development teams to access and unlock the potential of the Sencha HTML5 Platform.
Sencha Architect 2 builds on the companys innovative HTML5 layout tool, Ext Designer, expanding its capabilities to offer a comprehensive application design environment for building desktop and mobile Web applications.