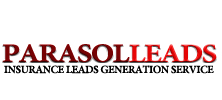 Arroyo Grande, CA (PRWEB) April 11, 2012
Marketing to generate high quality leads is the focus of most insurance agents, but they can get a bit overwhelmed in determining the best way to market their business for the best results given the numerous tools and resources available to them.
ParasolLeads announces the release of their Free Report, 101 Marketing Ideas for Insurance Agents, to assist insurance leads with this challenge. The Free Report offers 101 marketing ideas to help insurance agents generate quality marketing leads, and includes offline and online techniques, as well as some of the soft skills required to convert leads as fast as possible.
Some of the offline techniques and tools covered include everything from networking and industry events to presenting and hard copy marketing materials. Online techniques and tools provided include utilizing specific social media marketing networks, search engine optimization, online engagement, directory listings, video marketing, content strategies and many more.
Tom Carolan, Vice President of Business Development with ParasolLeads, shares, To generate quality insurance leads, insurance agents need to understand the importance of marketing their businesses effectively, as well as how to do it. Its our commitment to help them achieve optimal results by offering resources such as this.
With this commitment to customer service, ParasolLeads has earned strong relationships with insurance agents worldwide, in addition to an A+ rating with the Better Business Bureau.
ParasolLeads specializes in providing exclusive leads for health, home, life, auto, Medicare supplement, and long-term care insurance and offers tools and services to provide insurance agents with the support they need to land the quality leads theyre looking for on a consistent basis.
About ParasolLeads:
ParasolLeads is the ethical, honorable leader in insurance leads generation. The Company helps clients to achieve significant ROI while creating the high client satisfaction that earned them an A+ Accredited Business Rating with the Better Business Bureau. For more information about exclusive insurance leads, contact ParasolLeads at (877) 812-5111.