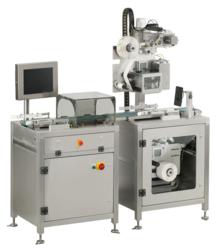 Rocky Mount, NC (PRWEB) March 15, 2012
Ossid, powered by Pro Mach, introduced today a new weigh-price labeler for meat, poultry, dairy products, seafood, and produce packing operations that require a rugged, versatile, and fast machine, up to 120 packages per minute, in environments with high moisture content.
The splash-proof Ossid WPL1522 weigh-price labeler features stainless steel construction and is designed for wet environments. With no exposed electronics, IP67 rated connectors, motors, load cell and touch screen and with sealed conveyor roller bearings, the weigh unit meets IEC standards IP67 rating.
This new splash-proof weigh-price labeler can run both top and bottom labels in a variety of sizes with true type fonts and graphics up to 4" x 5" with standard tamp. This machine can also run a variety of packages with reliable and repeatable label placement. It is capable of printing 21 different Bar Code symbologies, including 2D. Physical contact finger tamp system ensures accurate label placement on package. Users have a wide selection of print engines with up to 16 inches (406mm) per second of printing speed. This unit can function as a check weigher with the addition of a simple diverter/kickoff mechanism.
The Ossid 1522 connects to business systems and allows automatic order processing and tracking, remote user training, off-site maintenance, download of print requirements and prices right from the managers desk, software upgrades, and much more. The unit automatically collects raw data for every package to create real-time reports that can be delivered via email or PDA. English and Spanish are standard operator interface languages.
A number of meat, poultry, dairy, seafood, and produce processors perform labeling and final packaging in the same high moisture room where food processing and primary packaging takes place said Mike Alyounes, weigh-price labeler product manager, Ossid. Unless a weigh-price labeler is ruggedized, it is simply not going to last in that environment without constant and costly maintenance. The new splash-proof WPL1522 weigh-price labeler was designed specifically to remove these types of production worries from customers while giving them a versatile machine.
For more information on the new WPL1522 splash-proof weigh-price labeler, call 1-800-334-8369 and visit http://www.ossid.com to learn more about the companys full line of high speed packaging equipment, including weigh-price labelers, overwrappers, high CPM horizontal form-fill-seal machines, and in-motion case-weight scales.
About Ossid
Ossid is a leading North American designer and manufacturer of packaging equipment solutions for fresh and processed protein products, convenience foods, medical devices, and consumer goods. Ossid's principal product lines are weigh-price labelers, case-ready tray overwrappers, horizontal form-fill-seal machines, and in-motion case-weight scales. Ossid is headquartered in Rocky Mount, NC.
Ossid is powered by Pro Mach, a Cincinnati, Ohio based provider of integrated packaging products and solutions for food, beverage, household goods, pharmaceutical, and other diverse consumer and industrial companies. Through three business units and related divisions, Pro Mach provides equipment, training, installation, and parts in primary packaging, end-of-line packaging, and identification and tracking.