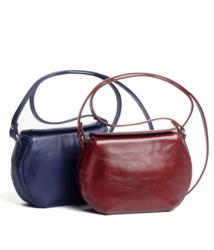 New York, NY (PRWEB) March 27, 2012
Oscar and Anna, an innovator in practical/chic handbags, unveils the Has Been. The magnetic flap-top cross body bag is the ultimate in hands free with an opening that is the definition for easy grab and go.
The Has Been is the latest in the brand's Take Me Out collection with a stylish, magnetic flap that closes upon itself. The functional and hip Has Been's simple lines and feminine curves make it a beautiful, must-have accessory -- day or night. Mindful of customers' desire for pockets, the design includes an interior zip and patch pocket for tucking away smaller items. Available in merlot and midnight, the Has Been, at $ 165, provides an entry point to Oscar and Anna handbags which are in the $ 400 range.
Anna Zefferys, creative director and founder, says: "The Has Been is a treat as a functional and hip cross body bag, and a fun addition to our Take Me Out collection."
Oscar and Anna also revealed gorgeous new colors of the extremely popular, A Shoe In (featured in the December 2011 issue of InStyle), and a refreshed website showcasing alluring illustrations by up and coming graphic artist Megan Hutchison.
About Oscar and Anna

Founded in 2011 in New York City, Oscar and Anna aims to innovate designs that are both practical and chic. The company's mission is to empower women to be fearless and go for their best look bolstered by accessories and apparel that take the effort out of decision-making. All of our bags are made in New York City.