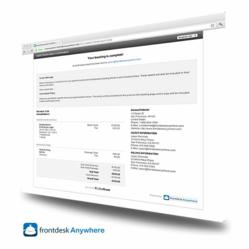 SAN FRANCISCO, CA (PRWEB) May 30, 2012
Online hotel management software company Frontdesk Anywhere today announced the launch of their next generation hotel website booking engine: Oboe v2. The booking engine offers a sleek modern design and the ability to sell package items while being tightly integrated with the hotels website.
Pronounced like the musical instrument, the Oboe website booking engine features a streamlined process for booking a hotel stay. Were receiving very high praise from guests using the new booking process, stated Thomas Lyle, co-founder of Frontdesk Anywhere. It requires 25% fewer clicks to complete a booking with our new technology.
Providing that instant gratification when guests confirm their room booking is key to converting website lookers to bookers Lyle said. Eliminating friction points for guests is one of the keys to facilitating higher conversions for our hotel customers.
One of the barriers to guests booking with a hotel is the online booking experience. Not having an online booking engine is bad enough but a complicated or unattractive booking engine will also discourage guests from booking.
The new website booking engine service launched today and is available for use by all Frontdesk Anywhere customers.
ABOUT FRONDESK ANYWHERE

Frontdesk Anywhere is a leading provider of innovative hotel management software for independent properties. To date, over 1,000 people use Frontdesk Anywhere every day and 60,000 hotel guests have had their stay managed with Frontdesk Anywhere from the initial online booking process through arrival, onsite operations and checkout. The company is focused on converging processes traditionally performed by separate systems into a single all-in-one productivity application. All modules are seamlessly integrated within the application and accessible from any computer and most mobile devices. The company is a privately held corporation based in San Francisco, California.
For further information please visit FrontdeskAnywhere.com