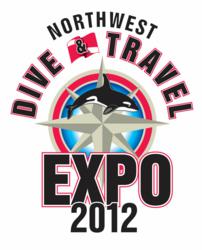 TACOMA, WA (PRWEB) April 13, 2012
This years expo will host 50 how-to seminars, safety demonstrations, environmental stewardship advocacy, photo and video competition, a childrens area, as well as a chance to win trips, gear, and other cool prizes in many new and interactive ways and over 250 unique and exciting booths.
Partnering with Dive for a Cure, a non-profit organization based in Oregon whose focus is on the fight to cure breast cancer, the Dive and Travel Expo will donate proceeds from special tie-dyed T-Shirt sales. Since 2008, Dive for a Cure has raised over $ 150,000 in the struggle against breast cancer. Donations acquired through Dive for a Cure will go to the Oregon Health Sciences University, a tax-deductible non-profit IRS 501(C) (3) organization.
Attendees can Try Scuba for free in a pool on the show floor. This exclusive opportunity offers the new (and sometimes shy) diver a chance to experience diving first hand. To take it up a notch, event coordinator, Rick Stratton, has also arranged an in pool Treasure Hunt. Anyone can enter the pool, and we have a list of prizes available including a grand prize of a trip to the Atlantis Hotel Resort in the Philippines courtesy of Worlds Best Diving.
Non-profits, manufacturers, dive clubs, shops, charters, and resorts have all signed up to demonstrate on the Underwater Stage on the show floor. These presentations will be throughout the day, and will teach everything from ecological stewardship to proper mask procedure.

The Kids Zone sponsored by Citizens for a Healthy Bay offers ocean education and explaining the importance of caring for the Puget Sound/Salish Sea by offering games and activities for children 3 and up.
The Hydro Theater will feature video contest entries from the Video Competition as well as trailers for ecological minded videos like Kelp and Critters. The often unique footage will awe, entertain and educate attendees about the creatures that live in or near the ocean. Proceeds of this DVD support local volunteer and stewardship programs.
Tech-saavy participants also have a chance to win in a new and exciting QR Code Treasure Hunt on the show floor. Details will be available when you enter the show, and the Grand Prize (sponsored by Dive News Network Media Group) is a $ 500 gift card to Best Buy.
Just walking into the show can grant a prize, as the Expo offers door prize drawings throughout the day. Prizes include anything from a snorkel to a local day trip or exotic destination getaway. The ticket stays in the drum for the next drawing, so attendees could win at any time over the two day event. All entrants will have a chance to win the grand prize: a full set of dive gear: a Dry Suit courtesy of Whites, a BC and regulator courtesy Zeagle, and a ScubaPro Mask. Prizes must be claimed before the end of the Expo, so attendees are encouraged to check in at the prize booth!
The certified diver has a chance to win at the 9th annual Underwater Treasure Hunt April 22 at Owens Beach in Tacoma, WA where participants can dive for the magic golf ball worth $ 1,000 among other prizes. Treasure Hunt on-site registration begins at 8:00 am, and the dive begins 10:00 am.
The Saturday Night Film Festival promises to educate and inspire attendees. This amazing event will include dinner, an awards presentation for the Video/Photo Competitions, and presentations from industry talent like Annie Crawley and the world renowned Ernie Brooks.
The 2012 Dive & Travel Expo will serve as a gathering point for dive and travel enthusiasts from across the Pacific Northwest and the globe. Divers are a highly mobile group that comes from all walks of life, stated DNN publisher and owner Rick Stratton. Our sport is founded by passion for diving, travel, preservation and living life to the fullest.
Dive News Network is a network of regional scuba diving magazines, both in print and online, that links dive and travel consumers and businesses together. Its mission is to promote scuba diving by producing quality publications which inspire divers to be more active in the sport locally.