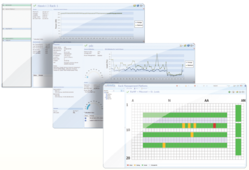 St. Louis, MO (PRWEB) April 11, 2012
No Limits Software announces the integration with Server Technologys Sentry family of rack power distribution units (PDUs) with their RaMP data center management solution.
No Limits Software is quickly becoming the industrys most comprehensive software solution for identifying highly granular operational information contained within active assets across Enterprise-class data centers. Using a wide range of network-enabled technologies, our RaMP solution can produce the most complete picture of the data center landscape in real-time, said Dave Cole, president of No Limits Software.
As a foundational power supplier for the data center, Server Technology continues to pioneer the rack-based power distribution unit segment, offering the industrys largest selection of rack-based power distribution, monitoring and management devices in any conceivable power framework up to and including leading-edge 480/277v products. The stakes are getting much higher now that computing density, data center temperatures and power costs are rapidly rising, said Mark Harris, vice president of marketing for Server Technology. A number of smaller vendors offered power solutions in years past, but the loads and temperatures found in todays data centers are stratifying the ranks due to the extreme level of expertise and discipline required to create PDU solutions that continue to work in these demanding conditions. The value of RaMP is greatly enhanced by the accuracy of our Sentry product line monitoring. The integration of Server Techs Sentry family of PDU products into No Limits RaMP provides customers with the most reliable operating metrics available from any PDU supplier, added Harris. The Sentry family was recently verified by Underwriter Labs as offering the industrys most accurate measurement at the outlet level within a data center environment.
This demonstrates yet another step in our continuing journey to ensure RaMP is entirely vendor-neutral and has built-in support for all of the major IT infrastructure providers such as Server Tech, said Cole. He added, Server Tech has been providing rack-based PDUs as long as Ive been in the industry and has thousands of happy data center power distribution customers. Its a natural for us to lead with the leaders.
The RaMP DCIM solution provides the following benefits:


Auto-discovery of detailed device information
Power and environmental monitoring down to the device level
Server monitoring to identify servers which should be retired, virtualized or consolidated
Software and operating system license management
Automated change control to reduce MTTR and increase availability
Web services API for integration with other systems
PUE, DCiE and CADE energy management calculations
Accurate capacity planning data helps to reduce stranded power and shutdown risks
Device type roll-up views for an easy way to quickly compare device performance
Enhanced rack views (device type, status, power usage, front and rear temperature)
Tracking of data center tasks
Enhanced visual data center editor makes it easy to design and edit data center layout

About No Limits Software
No Limits Software is a leading provider of data center management solutions, including asset management, capacity planning, and power and environmental monitoring. No Limits Softwares patent-pending solution is unique in that it automates asset management to the rack unit. The RaMP solution eliminates the need for physical audits, dramatically reduces the time to find and repair equipment, improves system availability and improves data center energy efficiency by providing accurate capacity planning.
About Server Technology
Server Technology's experts produce the highest quality rack mount power distribution and monitoring solutions that help manage power capacity, reduce downtime and improve energy efficiency. The leading innovator since 1984, Server Technology created the intelligent cabinet PDU market and holds the largest number of patents in that industry. Serving the data center and carrier markets, Server Technology offers the most extensive selection of cabinet PDUs to manage power usage for servers, storage and network equipment. Based on the innovative Server Tech Quality Power Architecture (QPA), Sentry CDUs and Sentry Power Manager provide the industrys most accurate information to maximize rack density, reduce overloading and monitor energy efficiency.
Find More Tech Press Releases