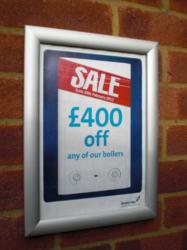 (PRWEB) March 24, 2012
Graphic Pavement Signs Ltd are launching a new stand-alone website selling front opening aluminium snap frames. The UK company specialises in Snap Frames with a huge choice and vast stocks and were the first company to sell these products on the internet.
These versatile products can be seen promoting, advertising and informing everywhere from retailers to restaurants, museums to schools, banks to theatres, airlines to garages etc.
The contemporary poster frames professionally display promotional posters/information sheets in neat aluminium frames and the poster is changed in seconds without removing the frame from the wall. The four front profiles are snapped open and the poster is placed behind the clear scratch-proof plastic protective cover sheet. The frames are then snapped closed and the job is done as quickly and as simply as that.
The range includes locking, vandal resist, illuminated and waterproof snap frames and certain sizes for displaying movie posters too. There are frames for counter/table standing and free-standing frames at eye level to get your message exactly where it can be seen. The standard finish is silver anodised aluminium and coloured frames are also available from stock including polished brass and chrome. Each frame is individually boxed and includes screws/wall plugs for simple wall fixing.

The snap frames are available in many sizes - all the 'A' sizes from A5 - A0, the Imperial sizes from 20" x 30" - 60" x 40" and the European sizes 500 x 700mm - 1400 x 1000mm.

Poster/graphic sheets are placed behind the clear scratch resistant protective plastic sheet and these sheets can be ordered separately in all the frame sizes too.