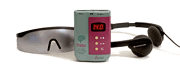 Los Angeles,CA (PRWEB) May 13, 2012
MindMachines.com announces the immediate availability of the new Proteus light and sound machine by MindPlace. Several improvements to the design and accessories make this a worthy upgrade to the previous version.
The Protues mind machine uses a BiColor LED system in its lightframes that creates a range of up to 4096 perceived colors. It also features TamasLabs Audiostrobe compatibility allowing users to experience intricate sessions of music synchronized to light and sound brainwave entrainment stimulation. The new Proteus now sports a USB cable for computer connectivity. In addition to operating system enhancements it can now be connected to the ThoughtStream Biofeedback System to use biofeedback readings to control programs. MindMachines product specialist Fred Williams says, The Proteus is a great value for the money and when connected to the ThoughtStream it becomes a powerful biofeedback driven device.
The Proteus package includes the compact control console, deluxe stereo headphones, stereo audio cable, printed manual, carrying case, US AC power adapter and ships with Ruby/Emerald Ganzframes which have 4 red and 4 green LEDs generating an extremely bright and engaging display.
For more information about the Proteus light and sound machine visit MindMachines.com.