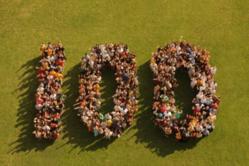 (PRWEB) April 10, 2012
One hundred years and countless achievements have come and gone since Loyola University was chartered in New Orleans in 1912. Since that time, the Jesuit-Catholic university has grown to house five colleges and two professional schools, educating 5,000 students a year with the guidance and support of more than 1,100 faculty and staff. For a century, Loyola has not only contributed to the economic health of the greater New Orleans area, almost $ 164 million last year alone, but it has also produced men and women who serve as catalysts of change in their communities by exemplifying the ethical and values-laden education they received at their alma mater.
Loyolas 17th and current president, the Rev. Kevin Wm. Wildes, S.J., Ph.D., believes that creates quite a ripple effect outside Loyolas campus. Loyola Universitys first 100 years were paved with great ambition and outstanding achievements. Today, Loyola is stronger than ever and poised to usher in its next century of impacting the world beyond its classrooms, Wildes said.
Throughout 2012 and 2013, Loyola University New Orleans will celebrate the 100th anniversary of its chartering as a university. The centennial will be observed from April 2012 to May 2013, featuring a number of signature and academic events that celebrate and explore Loyolas rich history. Festivities will begin today, April 10, 2012, with a host of public activities and lectures on campus following throughout the week, finally leading to a major kick-off event on April 14, 2012, the Founders Day Celebration.
In addition, the university recently launched a centennial website to give a nod to its past 100 years, http://www.loyno.edu/2012, which contains personal stories and photos showing the enormous impact a Jesuit education has on its students. The website also features milestones, official events, historical photos, video interviews and Loyolas plan for the future, illustrating how the university was and still is a place of innovation, academic achievement and lasting friendships.
To permanently document Loyolas unique history, the university commissioned the publication of Founded on Faith: A History of Loyola University New Orleans, written by professor of history Bernard Cook, Ph.D. The book, on sale at http://www.loyno.bkstr.com, provides a definitive history of the Jesuits in Louisiana and explores Loyolas impact to the city of New Orleans through a colorful cast of students, alumni, Jesuits, faculty and other characters.
The week leading up to the centennial kick-off offers a host of activities that celebrate Loyolas history and accomplishments, many of which are free and open to the public. See below for a listing of public events. For more information or a complete listing of events, please visit http://www.loyno.edu/2012.
MEDIA: For more information or to request to cover the Centennial Founders Day kick-off celebration on Saturday, April 14 at 6:30 p.m. on Marquette Lawn, please contact Loyolas Director of Public Affairs Meredith Hartley at mhartley(at)loyno(dot)edu or 504-722-6078.
Public Centennial Events
Tuesday, April 10
Centennial Lecture Series - Leading the Way: Loyola and the Desegregation of New Orleans

Nunemaker Auditorium, 7 p.m., free
Wednesday, April 11
Loyolas Photographic Treasures with Harold Baquet

Nunemaker Auditorium, 7 p.m., free
Thursday, April 12
Centennial Spring Concert - Fitz and The Tantrums, soul/indie pop band from Los Angeles

Howlin Wolf. Doors open at 7 p.m. Concert starts at 8 p.m.

Student tickets are $ 5, non-Loyola tickets are $ 10
Graphic Design Senior Exhibit Gallery Opening and Reception

Collins C. Diboll Gallery, 4th Floor, Monroe Library, 5 p.m., free
Graphic Design Junior Exhibit Opening and Reception

Outside next to the MoWall, between Miller Hall and Monroe Hall, 5 p.m., free
Jesuit Education and Social Change in Latin America Presentation, Fr. Alberto Munera, S.J.

Danna Student Center, Audubon Room, 7 p.m., free
Friday, April 13
Loyola University Centennial Exhibit

Monroe Library, 1st, 2nd, and 3rd floors. Presidents Exhibit in Thomas Hall, all day, free
Saturday, April 14 - Founders Day
Founded on Faith Loyola history lecture and book signing by Dr. Bernard Cook

Whitney Presentation Room, Thomas Hall 2 p.m., free
Loyola Concert Band premiering the Centennial Fanfare by Col. John Bourgeois 90, H05

Roussel Performance Hall, 2nd Floor, Comm./Music Complex, 3 p.m., free
100th Anniversary Celebratory Mass with Sacred Music

Holy Name of Jesus Church, 5 p.m.
Sunday, April 15
Loyola Chorale, Chamber Singers and NOVA Chorale

Roussel Performance Hall, 3 p.m.
St. Louis Cathedral Choir, Loyola Chamber Singers, and NOVA Chorale

St. Louis Cathedral, 7 p.m.
Private Centennial Event (News Media is invited to cover)
Founders Day Picnic Dinner Celebration with Live Music and Fireworks

(OPEN TO LOYOLA ALUMNI, STUDENTS, FACULTY and STAFF ONLY)

Marquette Lawn, 6:30 p.m., complimentary refreshments, light cash bar, hosted by Emmy award-winning alumnus Tom Llamas 01, NBC News correspondent and anchor, music by the Yat Pack and Johnny Sketch and the Dirty Notes with a special appearance by the 610 Stompers, followed by a fireworks finale.
For the latest updates about Loyola University New Orleans, follow us on Twitter @LoyolaNOLANews or become a fan on Facebook at http://www.facebook.com/loyno.