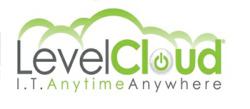 Corona, CA (PRWEB) May 17, 2012
In the short history of the CSP market, the worlds top 100 providers have emerged as leaders in providing a reliable platform and growth to the market overall. Combined revenues for these providers hit 2.3 billion dollars in 2011, with no signs of slowing in 2012. Among the list were the large names in our industry including Amazon Web Services, Cloud Sherpas, and MindShift who was recently purchased by Best Buy. Although a relatively young player to the market, LevelCloud made the list! Focusing solely on integrating the industrys leading solutions (including Citrix, Vmware, OS33) and delivering them through the MSP channel, LevelCloud has gained traction quite rapidly. With a main stronghold in the Southwest, LevelCloud's user base is quickly spreading throughout the rest of the nation.
"We have law firms, manufacturers, non-profits and many other verticals on our platform today. Providing a proven business-class total cloud solution across the nation is a rewarding feeling after years of building and crafting our business model", said LevelCloud CEO Biren Shukla. To be mentioned as one of the worlds top providers is an honor, especially to be on the same list as some of the giants in our industry, mentioned Shukla.
LevelClouds engineering staff has been working diligently to integrate todays leading solutions while continuously testing various solutions for what is coming tomorrow. We feel very confident in our platforms stability, performance, and redundancy. Our partners and clients depend on us to provide their network to them 24 hours a day, 365 days a year, said LevelCLoud CTO Olivier Matime. We are working harder than ever to continuously innovate and prepare for the computing market 5 years from now so that our partner base always have the leading solutions for their customers, mentioned Matime.
Today LevelCloud has authorized approximately 20 partners across the US to provide services to end users. The plans are to have enough partners to deliver services to all areas of the country and then explore operations overseas. I could not be more proud of our team and what we have achieved in only a couple of years, but we are nowhere near our internal goals and have a long way to go. Our plans for 2012 and 2013 put us on track to become the leader in providing turnkey cloud solution through MSPs in the U.S., said Shukla.
ABOUT LEVELCLOUD

LevelCloud is a turnkey channel-only cloud computing solution that replaces the traditional onsite network. The entire business network (e-mail, apps, data) is delivered through a centralized platform powered by dedicated resources in state of the art datacenters. LevelCloud enables organizations to free themselves from the traditional constraints of IT, and empower their staff to work anytime, anywhere, on any device through a collaborative platform. The solution is provided solely through a channel of LevelCloud Authorized Partners throughout North America.
Related Computer Press Releases