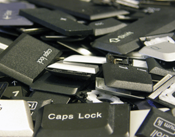 San Diego, CA (PRWEB) April 19, 2012
The laptop industry is always changing and new models come out every year. Laptop-keys.com has just released an updated list to cater to the newest and hottest laptop models. If a laptop has a damaged keyboard, the damaged key(s) can be replaced at a fraction of the cost of purchasing a brand new keyboard. Laptop-keys.com now offers an expanded selection of replacement laptop keys for $ 4.49 or less and even offer just the plastic hardware for $ 3.79 a key. Over 600 new models have been added to the already massive selection of keyboard repair kits. By providing the make and model, keys can be added to the custom shopping cart from an easy to use graphical laptop key selector.
Single laptop keyboard key replacement
Laptop keys in general are frail and can easily be damaged whether it be pets, children, wear and tear or just plain clumsiness. What most people don't know is that no longer is it needed to replace the entire computer or even the entire keyboard, this can cost a lot of money and create unnecessary electronic waste. Tens of thousands of people have already discovered Laptop-keys.com and have saved hundreds of thousands of dollars collectively by just replacing what needs to be replaced. It's like replacing a flat tire on a car rather than buying a whole new car - it just makes sense. Now with all major makes and models supported, any laptop keyboard can be repaired.
Replacing laptop keys can be so easy
One misconception is that replacing a laptop key is difficult and only those who are tech-savvy can perform the task. No longer is this true. Laptop-keys.com provides easy to follow, video narrated installation instructions for each and every key repair kit sold. The installation videos explain in a very detailed manner exactly how to install a key replacement kit. The format is in such a way that customers can follow the directions and get any key installed in a matter of minutes. Along with the updated parts list, installation instructions have also been updated to account for these latest changes. Operators are standing by to assist, free of charge as well.
D-I-Y
Laptop-keys.com is designed to allow the replacement of single laptop keys and no longer need to rely on high priced professionals or sending off the laptop to the manufacturer, which can take several of weeks. All ranges of shipping options are available - from economy First Class all the way to Next Day Air. Orders are sent out every day to provide the fastest turn around time possible and can be delivered worldwide.
About Laptop-keys.com
Laptop-keys.com started out in Fall of 2006 with one goal: Provide single replacement laptop keys for the fraction of the cost of replacing the whole keyboard. Since then, Laptop-keys.com has grown and become the industry leader in the laptop keyboard repair industry. About 95% of all laptop models are covered and the list continues to grow every day. With this newest addition, around 9000 models now are covered 4 million keys are on hand ready to ship. Customers are encouraged to visit http://www.laptop-keys.com to find out more.
Find More Tech Press Releases