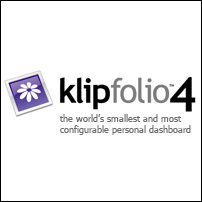 Ottawa, Ontario, Canada (PRWEB) February 20, 2007
KlipFolio 4, the world's smallest and most configurable personal dashboard launched today with its new Mini-Sidebar (http://www.klipfolio.com/klipfolio).
While other widget platforms have placed an emphasis on big, shiny interfaces and shotgun layouts, KlipFolio 4 keeps things small, manageable and focused on the value the widgets provide. "We're not here to put another analog clock widget on your desktop," says Peter Matthews, VP of Products at Serence, the makers of KlipFolio. "KlipFolio 4 and its Mini-Sidebar deliver on the power of desktop widgets yet still leave plenty of room to get stuff done."
KlipFolio can be used to monitor anything online -- weather, blogs, email, news, RSS feeds, auctions and much more -- right on the desktop using small, resizable widgets called Klips. Publisher-friendly; Klips are easy to build, distribute and use, and KlipFolio's development tools are built right in.
The new KlipFolio 4 brings unique and significant new features that make KlipFolio much more powerful in a small amount of space.
First and foremost is the new Mini-Sidebar. Now users can keep dozens of Klips visible along the edges of their screen using less space than a Windows taskbar, so there's no need to minimize or hide the services they provide. Sidebars can be positioned not only along the left and right edges of the desktop, but also along the top and bottom, offering unprecedented flexibility for users. And with KlipFolio 4 comes the ability to have multiple sidebars, visible or auto-hiding, on screen at the same time.
Also new in KlipFolio 4: Liquid Klips, a physics-based positioning model that lets users move and resize Klips while others adapt to fit around them intelligently and intuitively; Klip Groups, a system enabling users to create mashups of services using simple mouse gestures; and Send to Friend, which lets users easily share with friends or colleagues what they've uncovered with KlipFolio.
A major release of KlipFolio would not be complete without great new Klip capabilities. The latest includes: System Monitor Klips that display CPU, memory, battery, disk and Wi-Fi usage; Frame Klips that present images and webcams in a resizable region; and Search Klips that can quickly start a query directly from the desktop.
KlipFolio 4 is available as of Tuesday, Feb 20, at http://www.klipfolio.com/klipfolio.
KlipFolio is Microsoft Windows 2000, XP and Vista compatible.
About KlipFolio
KlipFolio is the smallest, smartest, most configurable personal dashboard available. KlipFolio can be used to monitor anything online -- weather, stocks, Hotmail, news, RSS feeds and even auctions -- right on the desktop. Now with Mini-Sidebar, KlipFolio leaves you even more room to get other stuff done.
About Serence Inc.
Serence Inc. (http://www.serence.com) develops and sells desktop dashboards that increase interaction, ad revenue and transactional revenue for online businesses, and increase awareness of business metrics for the enterprise. Fundamental to its success is the freely available KlipFolio personal dashboard and KlipFolio.com community. Founded in 2001, Serence is a privately held company with headquarters in Ottawa, Canada. Customers include Intel, Staples, IBM, Wolters-Kluwer, Monster Worldwide, McCann Erickson, Ogilvy, PNC, and EMC.
# # #
More Cpu Press Releases