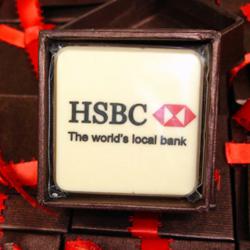 Wellington, FL (PRWEB) April 03, 2012
Put any company name on everyone's lips with personalized embossed chocolate logos by Chocolate Graphics International. After all, everyone loves chocolate! Logo chocolates are ideal for hotels, product launches, thank you gifts to clients, promotional tools, coffee accompaniments and even cake toppers. People may forget what is said, but they always remember how they felt. Companies will benefit as customers will never forget with this amazing chocolate promotional tool.
Hand-crafted with care from the finest ingredients. Chocolate Graphics' chocolate is individually tailored to feature any special message, corporate logo or design, making it not only unique it its style, but a delightfully delicious treat for the taste buds.
Managing Director John Taylor comments, "Our clients love the "wow" factor that comes with the product. For business, the branding of a chocolate with a corporate logos, photo or message creates a compelling communication. Who could say no to chocolate?"
"We had already researched what was available in personalised chocolates but Chocolate Graphics