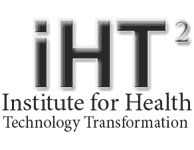 New York, NY (PRWEB) April 11, 2012
The Institute for Health Technology Transformation announced today that they will be hosting the annual iHT2 Health IT Summit in New York City on September 19-20th.
The iHT2 Health IT Summit will bring together C-level, physician, practice management, and IT decision-makers from North Americas leading provider organizations and physician practices. For two full days, executives interact with a national audience of peers, national leaders and solutions providers featuring the latest solutions for practice management, mobility, telemedicine, outsourcing, IT infrastructure, next-generation electronic medical records, disease management, and more.
The iHT2 Health IT Summit in New York will feature keynote presentations from John Lumpkin, MD, MPH, SVP & Director, Healthcare Group, Robert Wood Johnson Foundation and David R. Hunt, MD, FACS, Medical Director, Office of Provider Adoption & Support, Office of the National Coordinator for Health IT.
Featured speakers include: Lisa Khorey, VP, Enterprise Systems & Data Management, UPMC; Kenneth Ong, MD, MPH, CMIO, New York Queens Hospital New York Presbyterian; George Brenckle, PhD, SVP & CIO, UMass Memorial Healthcare; Elizabeth Johnson, MS, FHIMS, RN-C, SVP, Applied Clinical Informatics, Tenet Healthcare; Shane Hade, CEO, AvHealio; David Rhew, MD, SVP & CMO, Zynx Health; and many more.
Panel discussions for the Health IT Summit in New York City include: Meaningful Use: The Long Journey to Attestation, Analytics: Assessing and Managing Population health Risk and Total Cost of Care, Get Your Head in the Cloud: Delivering data at the Point of Care, Transforming Health Care Through HIE: Creating an Outcomes Oriented Health System, Your Security has been Breached: Whats Next?, Accountable Care: Improving Outcomes While Bending Down the Cost Curve, Mobile Health Care: Remote Patient Monitoring, and Applications & mHealth Strategies.
Sponsors and Partners include: MEDSEEK, vRad, AvHealio, Nuance, Altus, Rubbermaid Healthcare, VMware, Aventura, Zynx, UpToDate, Annese & Associates, Inc., Huntzinger Management Group, Citrix, Carestream Health, eHealth Smartbreif, FierceHealthIT, TechTarget, Healthcare IT News, and Advance.
About the Institute for Health Technology Transformation
The Institute for Health Technology Transformation is the leading organization committed to bringing together private and public sector leaders fostering the growth and effective use of technology across the healthcare industry. Through collaborative efforts the Institute provides programs that drive innovation, educate, and provide a critical understanding of how technology applications, solutions and devices can improve the quality, safety and efficiency of healthcare. http://www.ihealthtran.com
For more information about attending or sponsoring the iHT2 Health IT Summit in New York please contact Matthew Raynor, Senior Marketing Manager, Institute for Health Technology Transformation 561-748-6281 or matt(at)ihealthtran(dot)com