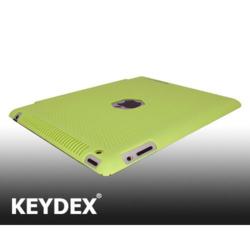 Fairfax, VA (PRWEB) April 27, 2012
Technology expert Scott Steinberg recently spoke with NewsWatch about some of the top products for 2012. One innovative company that has a great deal of products to make a consumers life easier is KeyDex.
The first product from keydex is their hard case cover iPad stand that not only protects your iPad from bumps and scratches, it also converts into a handy stand that allows consumers to rotate their iPad into a number of different positions for optimal use. The cover snaps into place, so users dont have to worry about it falling off and it comes in four different colors to match individual tastes.
Another product from Keydex that Scott was impressed with is this Mini Sound Bar Speaker Dock. It has a real compact design, but the speakers deliver surprisingly crystal clear sound and its easy to use. Consumers simply plug their iPod, iPhone or iPad into the unit and then place it on the stand. Users can talk on the phone, listen to music or watch videos without worrying about headphones. if users are not an Apple user, there is no need to worry. The stand also works for the Samsung Galaxy, Motorola Xoom, Kindle and HP TouchPad.
Finally, for those who like to combine fashion with function, Keydex has these attractive USB flash drives that can actually double as a necklace. Theyre made out of stainless steel with a bronze finish and have a number of different designs on the front and users can wear it as a pendant or clip it your key chain and they will never have to go digging through their briefcase or purse when they want to download something. They come in 4, 8 and 16 GB capacities. If users want more information about any of these products visit imateweb.com
Hailed as a top voice for todays high-tech generation by dozens of publications from USA Today to Forbes and NPR, Scott Steinberg has covered the field for 400+ outlets from The New York Times to Entertainment Weekly and Wired. A frequent on-air technology analyst for major TV networks including ABC, CBS, FOX, NBC and CNN, Scotts also a bestselling author and creator of the The Modern Parents Guide and Business Expert's Guidebook series. More than one billion people have turned to his columns and reports for insight into all things high-tech. He is the CEO of TechSavvy Global.
NewsWatch is a weekly 30-minute consumer oriented television show that airs nationwide. NewsWatch regularly feature top celebrities, health tips, technology products, medical breakthroughs and entertainment news on the show. The show airs in 190 markets nationwide as well as all of the top 20 broadcast markets in the country, and is the preferred choice for Satellite Media Tour and Video News Release Distribution. For more information, head to newswatchtv.com