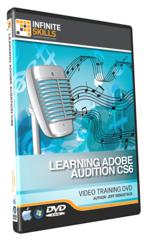 (PRWEB) May 27, 2012
Software training company InfiniteSkills Inc this week released an introductory guide, Learning Adobe Audition CS6 Tutorial Video, for the latest version of Adobe Audition, the audio editing and production application in the Adobe CS6 creative suite.
Learning Adobe Audition CS6 Tutorial Video - Training Lessons on DVD-ROM
With a Mac version emerging in CS5.5 to match its Windows counterpart in use for years, Adobe Audition has replaced Soundbooth in the Creative Suite after that program was officially discontinued in April 2011. According to Adobe, Audition offers improved compatibility within a workflow as well as a more elaborate array of effects and filters.
The Learning Adobe Audition CS6 Training Video covers all the necessary elements of a typical Audition workflow, exploring essential tools for importing and recording audio, editing audio clips, applying effects, and exporting audio files.
Audition's hallmark is the ability to integrate audio clips seamlessly into a workflow with video components. The new InfiniteSkills training course explores workflow related features in depth, such as processes for removing unwanted noises and exporting.
Course author Jeff Sengstack worked as a radio DJ before spending the first decade of his career in audio and video production for television. He also teaches audio and video production on the college level, and has written several instructional books for Adobe products. He was one of a handful of beta testers for the first edition of Audition in 2003.
"Audition is a referenced-based editor," explains Sengstack, "this means you can do your editing without having to save your original audio files in your projects, and it allows for much more efficient interaction between Adobe applications in a workflow."
In the Learning Adobe Audition Video Training Tutorial, Sengstack guides users through two studio recording sessions using Audition. As they perform hands-on tasks in the Audition workspace, students learn important skills as Sengstack explains Audition essentials point by point. Finally, all the tools are brought together as viewers produce, along with the author, final versions of their work, learning publishing protocols for various audio formats.
The Audition CS6 training also covers the program's unique editing features, including the spectral pitch display for more precise correction, real-time clip stretching, and automated mixer controls, all of which contribute maximizing the quality of sound files within the program.
InfiniteSkills offers its Learning Adobe Audition Tutorial either as a DVD-ROM or a direct download from the company website at a retail price of $ 99.95. All InfiniteSkills titles and formats are compatible with both Mac and Windows, and shipping and ordering options are available worldwide.
Free demo videos and a full list of course contents can be found on the Learning Adobe Audition CS6 training page on the company website:
http://www.infiniteskills.com/training/learning-adobe-audition-cs6.html
About InfiniteSkills Inc.

A leader in the field of computer-based technology training, InfiniteSkills tutorials are based on a task-oriented model for teaching complex technology concepts, teaching skills as users perform basic tasks guided by an InfiniteSkills expert. InfiniteSkills offers a comprehensive range of software tutorials as DVDs, digital downloads, and in iPad editions, keeping with company aim of delivering professional training to customers anywhere they want to learn.