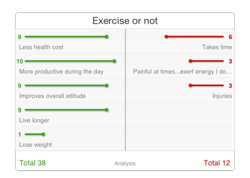 Durango, Colorado (PRWEB) April 04, 2012
Today Great Life Software announces Great Decisions 2.0. This new version of it's Great Decisions iPad and iPhone software now includes:

iPad 3 Retina Display!
iPhone 4 and 4s HD Retina Display
Sort and arrange any decision criteria, right from the toolbar
Easier to select or create tasks with graphic enhanced selector
Better templates integration
Faster to sort criterias, available even when keyboard is up
Modern look
External Keyboard Support
(i) Import right from the Tasks List screen, making it a snap to add templates
Create your own templates from GD on the fly
Faster than ever
Great Decisions is a simple yet powerful decision making software on the iPad and iPhone for people who want a fast way of making decisions that require contemplation of multiple variables. It's a must have package when you are making tough decisions. It's simple and straight forward. You can find the NEW 2.0 on the apple App store.