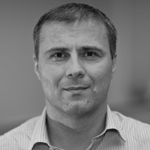 San Francisco, CA (PRWEB) May 08, 2012
GoodData, a disruptive, cloud-based enterprise Business Intelligence (BI) platform, today announced that Founder and CEO Roman Stanek will participate in the panel discussion, Data: The New Competitive Advantage at the Goldman Sachs Cloud Computing Conference. The panel discussion is scheduled for Tuesday, May 8, 2012 at 2:30 p.m. Pacific Time at Rosewood Sand Hill in Menlo Park, California.
Goldman Sachs Investment Banking second annual Cloud Computing Conference bands together prominent individuals across the cloud computing landscape. Stanek will join industry leaders to discuss, debate and network around the important trends driving this tectonic shift in the technology landscape. Stanek will share his insights and examples on the next stages of big data cloud development and the business value of cloud-based analytics.
Roman Stanek is GoodDatas visionary leader. When he started GoodData, in 2007, the founding vision was simple: connect more business people to business data to help them make better business decisions. Staneks innovative idea that cloud computing could finally make good on the broken promises of generations of BI has since revolutionized business intelligence. Roman has been a tech entrepreneur for almost 20 years. He was Founder and CEO of NetBeans (acquired by Sun Microsystems) and Systinet (acquired by Mercury Interactive and later Hewlett Packard).
What:

Goldman Sachs Cloud Computing Conference
Where:

Rosewood Sand Hill

2825 Sand Hill Road

Menlo Park, CA 94025
When:

Tuesday, May 8, 2012, 7:00 a.m to 5:30 p.m Pacific Time
About GoodData

GoodData is a disruptive, cloud-based enterprise platform for business intelligence. The GoodData technology is intuitive, secure and fast. It helps convert big data into profitable insights and strategies for business executives. GoodData is trusted by companies like Enterasys, Capgemini, and Software AG, and embedded into offerings from cloud innovators like Zendesk, Get Satisfaction and Pardot. Headquartered in San Francisco, GoodData is privately held and backed by leading venture capital firms, including Andreessen Horowitz, General Catalyst Partners, Fidelity Growth Partners, and Windcrest Partners.