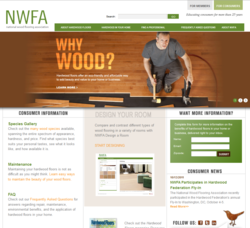 St. Louis, MO (PRWEB) March 27, 2012
National Wood Flooring Association (NWFA) just completed their first fully refinished website with the help of the Auctori .NET web content management system. NWFA, the owner of the website woodfloors.org, is a not-for-profit trade association that provides resources, training and professional development services to hardwood flooring manufacturers, distributors, retailers, installers, architects and more.
To better serve thousands of members and clients world-wide, NWFA selected Auctoris global content management system as their new Web CMS platform. Among several features and capabilities, Auctori offers a wide range of scalability, formatting for search engine optimization, state-of-the-art security and robust manylingual capabilities (the ability to display content in multiple languages on one page).
Auctori allows us to do so much that we did not have the ability to do with our previous website, said Liz Peuster, NWFAs Marketing and Web Services Manager. For example, I used to have to use a complicated set of tools to access our web server and update the website. Now I can log in using Auctori and make changes using my web browser.
Woodfloors.org provides an easy forum for consumers to contact local contractors and certified wood flooring professionals through NWFA. Auctori also makes it easier for NWFA employees to communicate with consumers through the website. With Auctori, changing a graphic, adding a new web page or even updating navigation is very simple and takes just seconds.