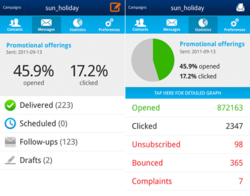 Wilmington, DE (PRWEB) April 12, 2012
GetResponse, the leading email marketing provider, today announced a smart new Android App that gives email marketers control of their campaigns, marketing lists and email reports straight from their phones.
A recent AT&T Small Business Technology Poll shows a growing trend toward user commitment and reliance on smartphone apps. 72% say they use mobile apps in their business, and 38% claim they couldnt live without them.
GetResponses tech-savvy customers have embraced mobile apps enthusiastically, says Simon Grabowski, GetResponse founder and CEO. In response to their urgent demands, we redoubled our efforts to provide Android users with the perfect app to help them keep up with the pace of business todayan app for managing email marketing on the go.
According to Google Q2 2011 Earnings Call research, the Android smartphone is the second-fastest-growing market in the world, with 130 million devices in use worldwide and expanding like wildfire.
GetResponse Android App Functionality
The app is designed to enable immediate and continuous monitoring and management of email campaigns. With GetResponse Android App, an authorized user of GetResponse can: