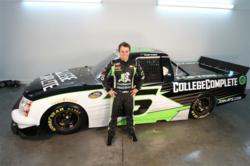 Martinsville, VA (PRWEB) April 01, 2012
Despite a month-long break in NASCAR Camping World Truck Series (NCWTS) competition, Justin Lofton and the No. 6 College Complete (http://www.collegecomplete.com, 877-543-2655) Eddie Sharp Racing (ESR) team were able to keep the momentum from their third place finish in Daytona rolling this weekend at Martinsville Speedway. Lofton and team had a strong weekend from start to finish, which left them with an impressive fourth place effort on Saturday.
I am so proud of the guys on this College Complete team. Dan (Bormann, crew chief) followed great strategy and our pit crew picked up positions in the pits every time. It was a lot of fun out there. The truck was dialed in and I cant thank all of the guys enough for the hard work in preparing this College Complete Chevrolet Silverado, Lofton said.
Lofton turned his first laps of the week during two practice sessions at the paper-clip shaped Martinsville short track on Friday. The No. 6 College Complete Chevrolet showed eighth in the first session, and fifth in the second session. On Saturday, rain delayed the start of qualifying temporarily, but once underway, Lofton again found his way to the top of the speed chart by qualifying sixth for the Kroger 250.
Once the green flag waved, Lofton maintained a seventh place run through his first pit stop of the day on lap 77. At that point in the race, Lofton noted that his College Complete Chevrolet needed help in the center. After getting an air pressure adjustment on his four new tires, Lofton rejoined the race in sixth.
As the race hit the halfway mark on lap 125, Lofton maintained the sixth position. Within laps, he picked up another spot, re-entering the top-five. 40 laps later, Lofton drove his College Complete Chevrolet down pit road for the teams second pit stop of the day. Again, Lofton added that he needed a bit of help through the center. After another tire change, the crew sent him back on track in the fourth spot. The team made two pit stops throughout the race and both times Loftons over the wall crew gained positions.
Shortly after the restart, Lofton made good use of his fresh tires and wheeled his way to third. He muscled his way around the half-mile Virginia short track within the top-five through the remainder of the race.
With 40 laps left to run, Lofton radioed to his crew that he felt as though the brakes were fading in his No. 6 College Complete Chevrolet due to the constant braking around the dicey short track.

Two more caution flags waved as the laps clicked down. A late race caution flag with less than 15 to go gave the field a six-lap run to the finish. Lofton took the final restart from the fourth spot and showcased the speed in his machine and his talent as he drove home to his second top-five finish in as many races.
I am really happy to leave Martinsville with a top-five. Ive had decent runs here before, but always seemed to get caught up in something. Today, everything hit just right and we got a good finish, Lofton added. To get such good runs at Daytona and Martinsville, tracks that are hit or miss and really tough, it sets a good tone for our season.
Lofton and the College Complete team will observe an off week in competition before heading to Rockingham Speedway on April 15th.
About College Complete: Partnered with hundreds of educational institutions and across all types of education goals, including traditional college degrees, trade and vocational certifications, and professional licensure, College Complete helps students assess all of the information that exists in the public domain, allowing them to understand and make sense of their educational opportunities. Their services are free and available to anyone. Whether you are interested in Art and Design, Business, Computers and Technology, Criminal Justice, Education, Healthcare and Medical, Science and Engineering, and much, much more; if youre an Electrician, a Nurse, an Automotive Mechanic, a Teacher, a Police Officer, or youre simply interested in learning Computer Programming, Networking, Web Development, or Graphic Design College Complete is available for you at no cost. You can reach them by filling out a form on their site or calling to speak with your personal Education Advocate at 877-543-2655. College Complete has an initiative to assist those in the US Armed Forces and their families and is able to assist in identifying schools that will not only provide the educational requirements of the soldier, veteran or family member but will do so in a cost effective manner.
About JoinAPS: At APS, we find the best processing solution for your business. We are your first stop for Visa, MasterCard, American Express, and Discover along with other value-added merchant services like your own gift card program. We also work with check services; cash advance options and other value-added services to help your business succeed. APS can provide many of the services needed to help you build your business. APS provides tailored merchant solutions specific to different types of businesses. With APS, we show you the best options by industry type to handle your payment needs from beginning to end. Visa/MasterCard, Amex, Discover, EBT services along with terminals that handle multiple other services including your gift cards and check payment solutions needs. All of these services can be customized to fit your business. APS offers a complete solution for all types of businesses that need to process credit card related transactions. Our INDUSTRY SPECIFIC SOLUTIONS provide the best options for your business model. We have experienced client service representative who understand what your processing needs are
Find More Graphic Press Releases