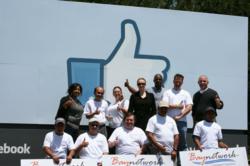 Menlo Park, CA (PRWEB) May 21, 2012
On Friday morning March 18th, 2012 the largest tech IPO in American history took place in Baynetwork Inc.'s Menlo Park backyard. The world watched the $ 100+B facebook valuation go into motion as a simple exposure point was exploited by local IT network hardware re-seller and computer equipment supplier, Baynetwork Inc.
New, pre-owned, refurbished and used Cisco equipment re-seller, Baynetwork, Inc., took Marketing Director's Jason E. Sutherland idea to usher national media attention towards a local company and turned it into gold. Jason's idea was simple, take advantage of the media hype related to the facebook ipo.
Billions of dollars are spread throughout the Silicon Valley among some very prominent companies like Apple, Google, Yahoo, Cisco, Oracle and Ebay to name a few. The facebook IPO media sensation was the perfect platform for a local business in Silicon Valley to remind the big players about an opportunity to help promote local economy and business from right within their own backyard. "It's not everyday that you can easily and cost effectively tell all of the tech world about where to get affordable data center hardware." -Jason E. Sutherland.
Determined to let the world know about deeply discounted Dell blade servers, Juniper switches and ShoreTel VoIP equipment, the Baynetwork team built a plan; print big signs, get as close to the media as possible and make some magic. Within a couple of hours, Yuriy Petushkov, Larry Lessler, Cornelius Lopes and Jason Sutherland began a march onto facebook campus with four 48" X 24" signs that were co-branded "Baynetwork Like Button Facebook".
Upon arriving on facebook's Menlo Park campus (a stone's throw away from Baynetwork Inc.'s Corporate Office), Mr. Sutherland quickly set himself up to have Baynetwork gain national media exposure by walking into the live camera shots of all the morning news cameras with his freshly printed sign. Quick to their feet, facebook security and communications staff politely asked Jason to keep his signs and himself out of the live camera shots. Baffled by this humble request, the team of four respected it and took positions at the main intersection (Willow Road and the Bayshore freeway ) outside of facebook campus.
Driven to make sure the world knew about affordable Ixia testing equipment, network security analysis, managed IT services and private cloud deployment Jason and Larry who were closest to the facebook campus entrance soon found themselves being interviewed by Forbes.com reporter, Brian Caulfield.
If there was one time that IT hardware asset recovery became sexy it was when Brian realized the stroke of logic with Baynetwork's grass roots approach to marketing. It was evident that the Baynetwork Inc. way of doing things in a practical and cost-effective manner was now about to be shown to the world. Brian's excitement and ability to write about the guerrilla marketing tactic was executed with sheer genius. Shortly after a quick and on-the-spot interview, Forbes.com had a complete article and photo covering our local story of "What's Better Than Facebook Advertising? How About Free Advertising".
Throughout the morning journalists from KQED, San Jose Mercury News, AP and KCBS continued to interview Cornelius Lopes, Jason Sutherland, Larry Lessler and Yuriy Petushkov about why an IT hardware equipment supplier would do something like this. It's obvious, we make IT happen!
Since 1997, Baynetwork, a premier re-seller of new, pre-owned, refurbished and used network hardware and computer equipment including Cisco, Juniper, Dell, Barracuda, Ixia, ShoreTel and many premier IT hardware brands, has helped define and shape the IT network hardware equipment industry. From complete network design and configuration to security analysis and private cloud deployment, Baynetwork's array of services and products helps thousands of companies across the globe deliver digital media and content with reduced cost and short lead times. Baynetwork services also include enterprise and data center IT hardware repair.