Essilor Vision Foundation Selects DonorCommunity as Its Strategic Software Platform for Fundraising and Advocacy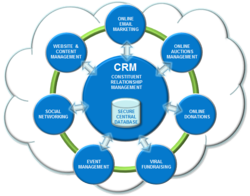 Sunrise, FL (PRWEB) June 01, 2012
DonorCommunity, Inc., developers of the leading cloud computing software platform for nonprofit fundraising and advocacy, announced today that the Essilor Vision Foundation of Dallas has become the latest nonprofit organization to join its community of clients.
As a DonorCommunity subscriber, Essilor receives unlimited access to DonorCommunitys comprehensive suite of Software as a Service (SaaS) applications for CRM, Online Marketing, Online Donations, Online Auctions, Event Management, Social Networking, Personal Fundraising and Website Content Management. The DonorCommunity platform is offered on an annual subscription basis that also includes free Website hosting and unlimited training and support.
DonorCommunity is enabling us to dramatically expand the reach of our ongoing initiatives to eliminate poor vision and its lifelong consequences, said Stephen Shawler, Essilor Vision Foundation President. DonorCommunitys first goal was to provide us with a new Website thats easy to update and offers a better look and feel. As promised, our new site was online in just ten days. Weve also been using DonorCommunitys Event Manager to promote and sell sponsorships to our 2012 Charity Golf Classic events. The entire process has been automated and streamlined.
DonorCommunity is also providing Essilor with the essential capabilities it needs to secure new supporters and educate the public. The results have been exceptional, said Shawler. Were not only finding new supporters, were also gaining new insights that enable us to cultivate these relationships in a much more personal and productive way. DonorCommunity and its products have far exceeded our expectations.
The Essilor Vision Foundation is an exemplary corporate citizen, providing children with free screenings and eye exams, and helping to educate parents, teachers, and the general public about the critical role good vision plays in literacy, education, society, community safety and the economy, said David Blyer, DonorCommunity founder and CEO. When we help organizations like the Essilor Foundation become more successful in pursuing their goals, everyone benefits. Were proud to welcome them to our community.
About EssilorVision Foundation

Essilor Vision Foundation provides vision services such as, eye exams, eyeglasses, and vision screenings to children with the greatest need in local communities. We are a 501 (c)(3) public charity organized with a mission to "eliminate poor vision and its lifelong consequences." For more information, visit http://www.essilorvisionfoundation.org. Please "Like" us on Facebook at http://www.facebook.com/EVFTeam.
About DonorCommunity

DonorCommunity, Inc. is a cloud computing Software as a Service firm that helps nonprofit organizations cultivate donors, forge closer relationships with stakeholders, engage their communities and raise funds year-round. DonorCommunity offers a suite of fully-integrated Web applications for constituent relationship management, online auctions, online marketing, online donations, event management, personal fundraising, social networking and Web content management. The entire platform is furnished on a fixed-fee, annual subscription basis that includes unlimited users, unlimited records, unlimited training, unlimited support as well as free Website hosting. For more information, visit http://www.DonorCommunity.com.