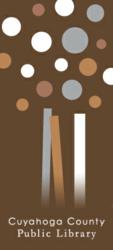 Parma, Ohio (PRWEB) April 02, 2012
Cuyahoga County Public Library (CCPL), the nations top-rated library system for three consecutive years, has teamed up with Cyrid Media, a Cleveland-based ad agency, to engage readers through the deployment of several social media initiatives. At CCPL, we are focused on supporting and fostering a community that reads, said Robert J. Rua, CCPL Assistant Marketing Director. We continually explore innovative new ways to connect our customers with great books, particularly through technology. Our customers are increasingly tech-savvy and we need to stay current with the latest communication channels, such as social media, to remain relevant to them.
Cyrid Media, a full service ad agency specializing in blending clients traditional marketing efforts with social media initiatives, is providing CCPL with an overall social media strategy. The Library has done a great job of effectively communicating with their customers. Our job is to provide them with the conduit on social media platforms to continue this success, said Heather Kramer, Director of Social Media Services at Cyrid Media. We give CCPL the ability to tap into real-time conversations relating to their brand, affording them an unfiltered view of public sentiment surrounding their services, which we believe is the fundamental DNA needed for building and maintaining consumer trust.
Cuyahoga County Public Library is a mission-driven organization that provides a unique combination of materials, services and programs free of charge to the community. While books and reading are our core service, our overall vision is to impact the quality of life for county residents. We are focused on making a difference in our communities, said Rua. Cyrid Medias social media services help us to not only effectively communicate our value to the community, but to engage with our customers and deepen their connection with the CCPL brand. Their services have been invaluable in helping us raise awareness of our efforts and increase customer engagement.
About Cuyahoga County Public Library

Cuyahoga County Public Library consistently ranks as one of the nations ten busiest and best library systems. Its 28 branches serve 47 communities. The Librarys mission is to be at the center of community life by providing an environment where reading, lifelong learning and civic engagement thrive. For further information, visit http://www.cuyahogalibrary.org.
About Cyrid Media

Cyrid Media, founded in 2000 by Mark Dolan, provides marketing and advertising services to a wide range of local and regional businesses throughout northeastern Ohio. Services include: media planning and buying; social media consulting, strategy and implementation; behavioral online targeting; video production and graphic design.
Tagged as: 'Readers, County, Cuyahoga, Deployment, Engages, Initiatives, Library, Media, Public, Several, Social, through
Leave a comment
Pages
Categories
Blogroll
Archive
Meta